I love going home for the holidays, especially for Thanksgiving. I come home and immerse myself into the three F's: family, football and food. But, I'll have to admit, the food part is my favorite. When I was a kid I used to hang out in the kitchen while my parents prepared elaborate holiday dinners for the rest of my extended family.The food was always a hodgepodge of our family's Eastern European heritage alongside classic American holiday treats. And when I think about those American holiday treats, one dish always comes to mind: sweet potato casserole.
To start this dish off, you will first need to cook off your sweet potatoes. To do this, it is always better to roast them off as opposed to boiling. Boiling won't take as long but you will end up with a gluey, starchy and thick filling for you casserole. Roasting will ensure you end up with a nice light filling. Next, scoop out the flesh of the sweet potato and mix with the sugar, spices, salt, butter and cream. Add your eggs only when the filling has cooled enough! Otherwise you will end up with scrambled eggs your filling. To ensure that they don't coagulate, add them once the filling has come down below 140°F. To make the streusel topping, mix the brown sugar and flour with the cold butter. You can use a fork or pastry cutter to break the butter up into small pieces. It should almost look like lumpy sand. Fill your casserole dish, top with the streusel and walnuts and bake off until it turns golden and bubbly. Line the casserole dish with marshmallows and continue baking for another five minutes or until the marshmallows poof up and turn a nice toasty golden brown. Serve immediately with all of the rest of the traditional or non traditional holiday goodies!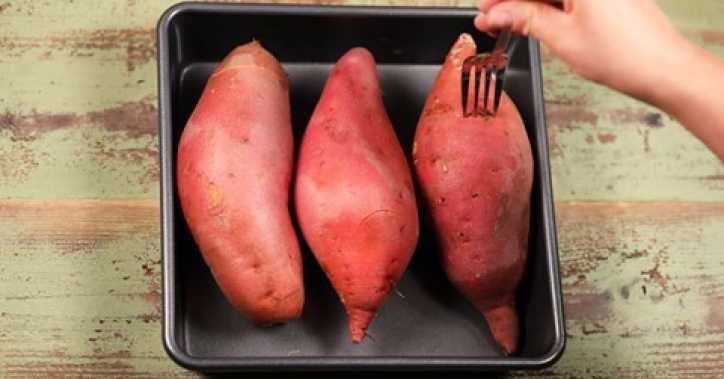 Yummy Sweet Potato Casserole
Ingredients
For the filling:
3 pounds sweet potatoes
1 teaspoon salt
¼ cup heavy cream
½ cup brown sugar
½ teaspoon garlic powder
½ teaspoon onion powder
½ teaspoon cinnamon
¼ teaspoon ground clove
1 teaspoon lemon zest
¼ cup unsalted butter, soften to room temperature
2 eggs, beaten
For the streusel topping:
1½ tablespoon unsalted butter, cold, cut into ½ inch cubes
¼ cup brown sugar
2 tablespoons all purpose flour
Final ingredients:
½ cup walnuts, roughly chopped
1½ cups mini marshmallows
Directions
Preheat oven to 350°F. Butter/grease a casserole dish.

Poke the sweet potatoes with a fork before baking them.

Bake sweet potatoes for 60-90 minutes or until fork tender. Let them cool down enough to handle but they should not be cold.

For the filling: Using a spoon, scoop out flesh of sweet potatoes into a large bowl. With a potato masher, mash the sweet potato flesh until smooth (a bit chunky is ok). Mix in salt, sugar, garlic powder, onion powder, cinnamon, ground clove, lemon zest, cream and soft butter. Stir in eggs but only once the mixture reaches below 140°F.
For the streusel topping: in a bowl, using a fork or pastry cutter, break up the butter and combine the brown sugar, flour and cold butter.

Add the sweet potato mixture into the greased baking dish. Top with the streusel topping and the walnuts. Bake for 30 minutes or until the top is golden brown and starts to bubble.

Arrange the mini marshmallows in a single layer over top. Bake for 5 more minutes or until the marshmallows puff up and turn golden brown. Serve immediately.
Source: cooktopcove.com