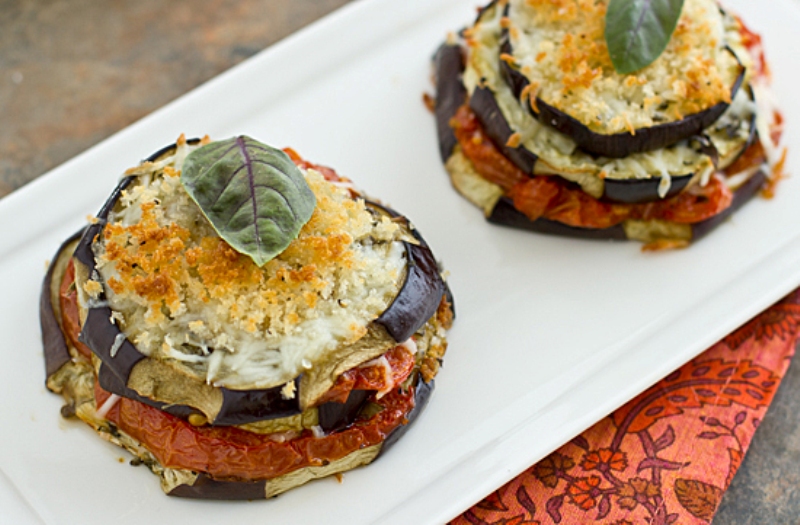 INGREDIENTS
1 medium-large eggplant (sliced into ¼ inch thick rounds)
Mayo:
½ cup raw cashew pieces
½ brick extra firm tofu (or about 7 ounces)
1½ tablespoons lemon juice
6 tablespoons water
¾ teaspoon salt
½ teaspoon granulated sugar
Breading:
1 cup panko bread crumbs (see note below)
1 tablespoon Italian seasoning
1 tablespoon nutritional yeast flakes
½-3/4 teaspoon salt (or to taste, depending on brand of panko used)
½ teaspoon onion powder
½ teaspoon garlic powder
Tofu Ricotta:
½-3/4 cup remaining mayo from recipe above (or whatever is left after painting/breading your eggplant rounds)
½ brick extra firm tofu (or 7 ounces)
1 teaspoon lemon juice
1 teaspoon nutritional yeast flakes
1 teaspoon dried basil
salt to taste
Marinara sauce (to serve)
INSTRUCTIONS
Prepare eggplant by washing, peeling (optional), and slicing it into ¼ inch thick rounds.
Prepare mayo (or use your favorite vegan mayo–about ½ to ¾ cup needed, depending on the size of your eggplant) by blending all mayo ingredients in a high-speed blender until smooth. If you don't have a high-speed blender, soak your cashews for a few hours before-hand, and use only 3-4 tablespoons of water.
Preheat oven to 375 degrees Fahrenheit.
Mix all breading ingredients together and set aside in a bowl.
Paint each eggplant piece with generous amounts of mayo on both sides.
Spoon the breading mixture over both sides of each eggplant round, tapping off the excess.
Place eggplant rounds on 2 lined baking sheets.
Bake at 375 degrees F for about 15 minutes, then flip each eggplant round over, and bake for another 12 to 15 minutes, or until eggplant is tender and crumbs are a light golden color.
Serve eggplant alone, with pasta and marinara, or in stacks (as shown) with vegan ricotta made out of your leftover ingredients (remaining oil-free mayo and ½ brick tofu).
To make the tofu ricotta, use a fork to mash together oil-free mayo, tofu, lemon juice, yeast flakes, basil, and salt in a bowl.
Layer eggplant rounds with marinara and tofu ricotta to desired height. Top with fresh basil if desired.
Source ; allrecipes.com