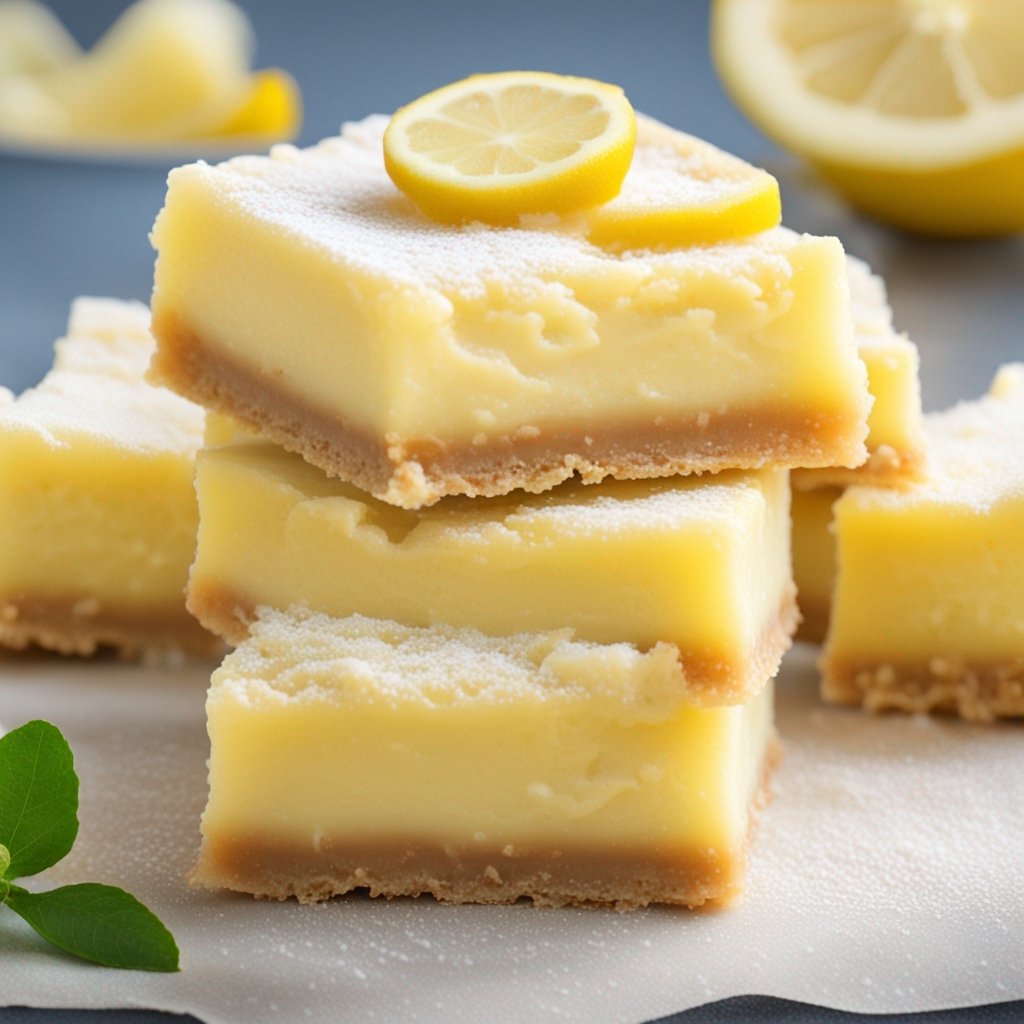 Ah, the tang of lemons and the creamy texture of a perfect dessert. When life gives you lemons, what better way to respond than with Creamy Lemon Squares? Dive into this mouth-watering guide, and by the end, you'll be a master of this delightful dish.
Quick Overview
Prep Time: 20 minutes
Cook Time: 25 minutes
Total Time: 45 minutes + cooling time
Servings: 16 squares
IIngredients
Crust:
1 cup all-purpose flour
1/4 cup granulated sugar
1/2 cup unsalted butter, cold and cubed
Pinch of salt
Creamy Lemon Filling:
1 cup granulated sugar
2 tablespoons all-purpose flour
1/8 teaspoon salt
2 large eggs
2 tablespoons lemon zest (from about 2 lemons)
1/2 cup freshly squeezed lemon juice (about 3-4 lemons)
1/4 cup heavy cream
Powdered sugar for dusting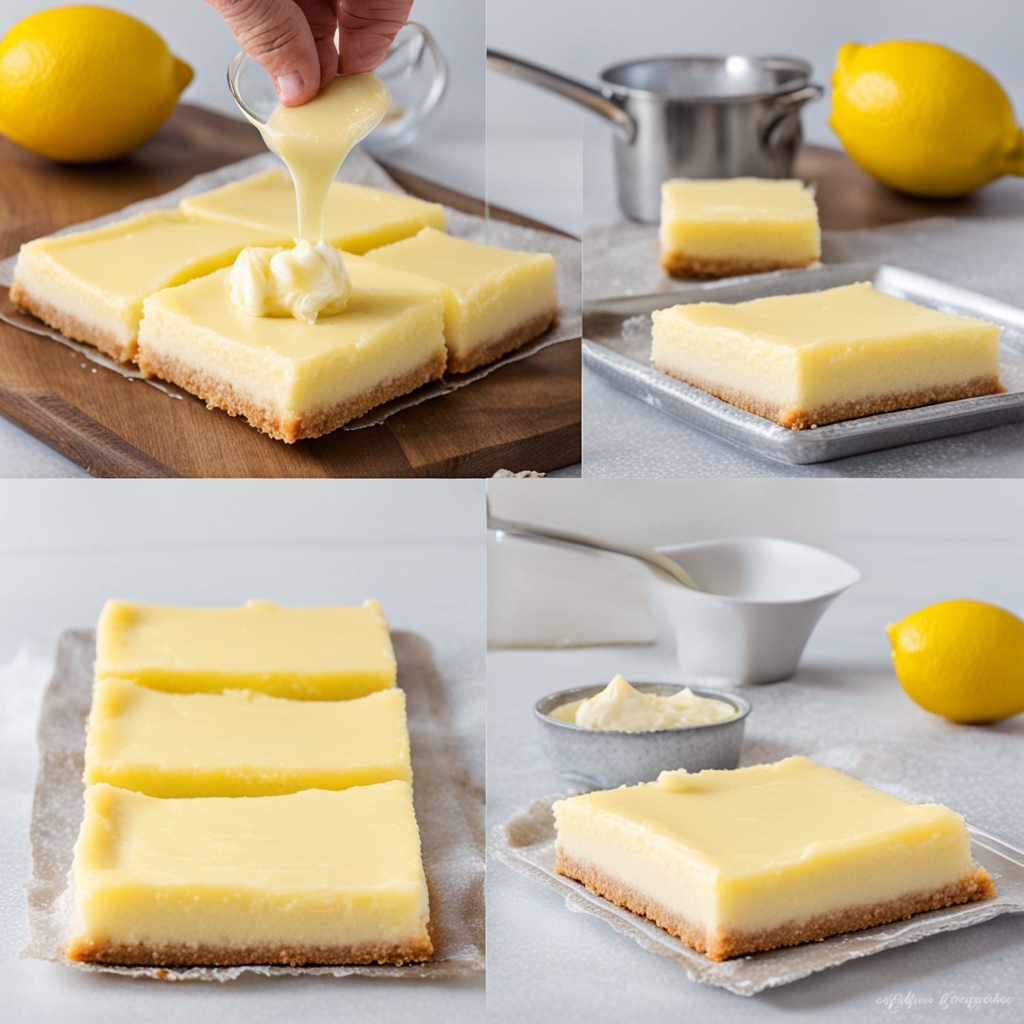 Instructions
For the Crust:
Preheat your oven to 350°F (175°C). Grease an 8×8-inch baking pan or line with parchment paper.
In a medium mixing bowl, combine flour, sugar, and a pinch of salt. Mix in the cold, cubed butter using a pastry cutter or your fingers until the mixture resembles coarse crumbs.
Press the crust mixture into the bottom of the prepared pan. Bake for 15 minutes or until lightly golden. Remove from oven but maintain the oven's temperature.
For the Creamy Lemon Filling:
In a separate mixing bowl, whisk together the sugar, flour, and salt. Add in the eggs, one at a time, followed by the lemon zest, lemon juice, and heavy cream. Whisk until smooth.
Pour the filling over the baked crust.
Return to the oven and bake for an additional 25-30 minutes, or until the center is set and the edges are lightly golden.
Allow the lemon squares to cool in the pan on a wire rack. Once cooled, refrigerate for a few hours, allowing them to set completely.
Before serving, sprinkle with powdered sugar using a fine-mesh sieve or a sugar shaker.
Pro Tips for Creamy Lemon Squares:
Lemon Freshness: Always opt for fresh lemons instead of bottled lemon juice. Fresh zest and juice give the squares a more vibrant, authentic flavor.
Cutting Tip: Use a hot, wet knife to cut the squares. This will give you clean edges and prevent sticking.
Storage: Store these squares in an airtight container in the refrigerator. They taste even better the next day!
The Secrets Behind Perfect Creamy Lemon Squares
Understanding the nuances of this recipe can elevate your lemon squares from great to exceptional. Here are the insider secrets:
Butter Consistency: Ensure your butter is cold for the crust. This leads to a crumbly and delicious base.
Zest Right: Only zest the yellow part of the lemon skin. The white pith can add a bitter taste.
Pan Choice: A glass or light-colored pan is preferable as it cooks more evenly and prevents the bottom from browning too quickly.
Serving Suggestions
Beverage Pairing: Serve with iced tea or a glass of Prosecco to complement the tanginess of the lemon.
Companion Desserts: A scoop of vanilla ice cream or a dollop of whipped cream alongside your square can add an extra layer of indulgence.
Garnishing: Consider a sprig of fresh mint or a few fresh berries on the side for a pop of color and flavor.
Frequently Asked Questions (FAQs)
Can I use lime instead of lemon?
Absolutely! Lime will give a different, more tropical flavor. Adjust the sugar if limes are more sour.
How long will these squares keep?
They can be stored in the fridge for up to a week. Ensure they're covered to retain freshness.
Can I freeze the lemon squares?
Yes. Place them in a single layer in a sealed container. They can be frozen for up to a month. Thaw in the refrigerator before serving.
Mastering the Creamy Lemon Squares doesn't just end at following the recipe. Understanding the secrets behind it, knowing how to serve, and answering those burning questions can make the experience even more enjoyable. So the next time you're craving a tangy treat, remember this guide and indulge in the perfect bite!