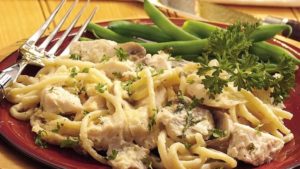 Ingredients
Directions
Preheat oven to 350 degrees F (175 degrees C). Lightly grease a baking dish.

Bring a large pot of lightly salted water to a boil. Add spaghetti, and cook for 8 to 10 minutes or until al dente. Drain, and place in the prepared baking dish.

Melt butter in a medium saucepan over medium heat. Stir in flour. Mix in chicken broth and milk. Cook and stir until the mixture comes to a boil. Stir in about 1 1/3 cups Parmesan cheese, and remove from heat.

Mix chicken broth mixture and turkey with spaghetti. Top with remaining cheese. Bake 1 hour in the preheated oven, until surface is lightly browned.
Source : allrecipes.Com