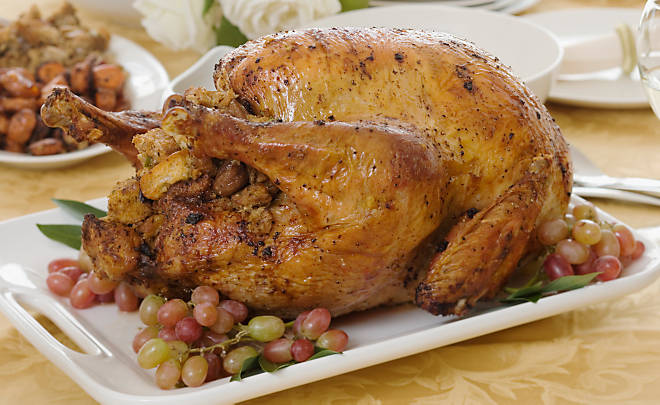 Ingredients
1 medium onion, peeled and cut into large chunks
1 stalk celery, cut into chunks
1 bone-in, skin on turkey breast (5 to 7 pounds)
1 lemon, cut in half
2 teaspoons olive oil
1 tablespoon Montreal steak seasoning
2 teaspoons poultry seasoning
½ cup chicken broth
½ cup dry white wine
Instructions
Grease a large 6-Quart slow cooker.
Place of chunks of onion and celery and one half lemon in the slow cooker.
Remove the turkey breast from packaging and pat dry with paper towels. Place the turkey breast in the slow cooker on top of the onion, celery and lemon.
Squeeze remaining lemon half over the turkey and add it to the slow cooker.
Rub olive oil on turkey breast.
Combine the seasonings and rub on the breast.
Pour broth and wine around turkey.
Cover and cook on LOW for 5 to 7 hours, or just until a meat thermometer reads 165 degrees. (Make sure the thermometer is not touching bone.)
Remove from the slow cooker and let rest for at least 15 minutes before slicing.
Source : allrecipes.Com