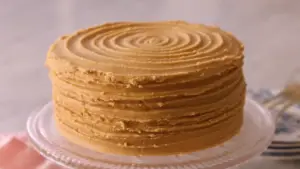 Triple Caramel Cake is a dessert masterpiece that celebrates the sweet, buttery goodness of caramel in three delectable layers. This cake is an indulgent symphony of flavors and textures, featuring moist caramel cake layers, creamy caramel frosting, and a generous drizzle of luscious caramel sauce. Whether you're marking a special occasion or simply craving a caramel-infused treat, this cake promises to satisfy your sweetest desires.
Ingredients
For the Caramel Cake:
2 1/2 cups all-purpose flour
1 teaspoon baking powder
1/2 teaspoon baking soda
1/2 teaspoon salt
1 cup unsalted butter, softened
1 1/2 cups granulated sugar
2/3 cup brown sugar, packed
3 large eggs
2 teaspoons pure vanilla extract
1 1/4 cups buttermilk
1/4 cup caramel sauce (homemade or store-bought)
For the Caramel Frosting:
1 cup unsalted butter, softened
1 cup caramel sauce
4 cups powdered sugar
1-2 tablespoons heavy cream (if needed for consistency)
For the Caramel Sauce (Optional, for Drizzling):
1/2 cup granulated sugar
1/4 cup unsalted butter
1/4 cup heavy cream
1 teaspoon pure vanilla extract
A pinch of salt
Instructions
Making the Caramel Cake:
Preheat your oven to 350°F (175°C). Grease and flour three 8-inch round cake pans.
In a mixing bowl, whisk together the all-purpose flour, baking powder, baking soda, and salt. Set aside.
In another bowl, cream together the softened unsalted butter, granulated sugar, and brown sugar until light and fluffy, which should take about 3-4 minutes.
Beat in the eggs one at a time, ensuring each is fully incorporated before adding the next. Stir in the pure vanilla extract.
Gradually add the dry flour mixture to the wet ingredients, alternating with the buttermilk, beginning and ending with the dry ingredients. Mix until just combined.
Gently fold in the 1/4 cup of caramel sauce to infuse the cake with caramel flavor.
Divide the cake batter equally among the prepared cake pans.
Bake in the preheated oven for 25-30 minutes, or until a toothpick inserted into the center of the cakes comes out clean.
Allow the cakes to cool in the pans for about 10 minutes before transferring them to wire racks to cool completely.
Preparing the Caramel Frosting:
In a mixing bowl, beat the softened unsalted butter until creamy.
Gradually add the powdered sugar and continue to beat until the mixture is smooth and well combined.
Pour in the caramel sauce and mix until the frosting is fluffy and the caramel flavor is infused throughout.
If needed, add 1-2 tablespoons of heavy cream to achieve your desired frosting consistency.
Assembling the Triple Caramel Cake:
Place one of the cooled caramel cake layers on a serving plate.
Spread a layer of caramel frosting over the top of the first cake layer.
Place the second cake layer on top and repeat the frosting process.
Finally, add the third cake layer and frost the top and sides of the entire cake generously.
Drizzling with Caramel Sauce (Optional):
If you choose to make caramel sauce for drizzling, combine the granulated sugar and unsalted butter in a saucepan over medium-high heat. Stir until the sugar has melted and the mixture turns a deep amber color.
Remove the saucepan from heat and carefully stir in the heavy cream, vanilla extract, and a pinch of salt.
Allow the caramel sauce to cool slightly before drizzling it over the top of the frosted cake.
Slice and Enjoy:
Slice your Triple Caramel Cake and savor each bite of caramel-infused bliss.
Variations and Tips
Caramel Varieties: You can use store-bought caramel sauce or make your own for the cake and drizzle. Experiment with different caramel flavors like salted caramel or bourbon caramel for a unique twist.
Nutty Texture: Add a layer of chopped toasted pecans or walnuts between the frosting and cake layers for a delightful crunch.
Decorations: Consider decorating your cake with caramel curls, caramelized sugar shards, or a sprinkle of sea salt for an elegant finish.
Make It Ahead: You can bake the cake layers and prepare the frosting a day in advance. Assemble and frost the cake on the day you plan to serve it for the freshest taste.
Storage: Store any leftover cake in an airtight container in the refrigerator for up to three days. Bring it to room temperature before serving for the best texture and flavor.
Triple Caramel Cake is a show-stopping dessert that's perfect for celebrations or any occasion when you want to treat yourself and your loved ones to the irresistible allure of caramel. With its moist cake layers, luscious caramel frosting, and optional caramel sauce drizzle, this cake offers a triple dose of caramel goodness that's bound to make every bite a memorable delight. So, embrace the caramel-loving side of you and indulge in the richness of Triple Caramel Cake!