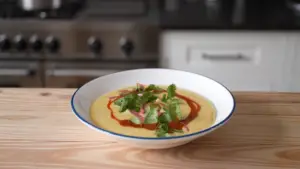 "The Greatest Queso That Ever Lived" lives up to its name, offering a spectacular blend of creamy cheese, zesty tomatoes, and the perfect kick of spice. Whether you're gearing up for a game day gathering, a cozy movie night, or just want to satisfy your cheese cravings, this queso dip is the ultimate crowd-pleaser. Get ready to embark on a flavor journey that might just make it the greatest queso you've ever tasted!
Ingredients
For the Queso:
1 pound (16 oz) white American cheese, shredded (from the deli counter)
1 cup whole milk
1/2 cup canned diced tomatoes with green chiles (such as Rotel)
1/4 cup diced yellow onion
1/4 cup diced green bell pepper
1/4 cup diced red bell pepper
1 teaspoon ground cumin
1/2 teaspoon chili powder
1/4 teaspoon cayenne pepper (adjust to taste for spice)
1/4 teaspoon garlic powder
Salt and black pepper to taste
Chopped fresh cilantro or green onions (for garnish, optional)
Instructions
Melting the Cheese:
In a medium-sized saucepan over low heat, warm the milk until it's hot but not boiling.
Gradually add the shredded white American cheese to the hot milk, stirring constantly until the cheese is completely melted and the mixture is smooth.
Adding Flavor and Spice:
Stir in the diced tomatoes with green chiles (Rotel) into the melted cheese mixture. Continue to stir until well combined.
Add the diced onions, green bell pepper, and red bell pepper to the pot. Stir them into the queso.
Season the queso with ground cumin, chili powder, cayenne pepper, garlic powder, salt, and black pepper. Adjust the cayenne pepper to your preferred level of spiciness.
Serving:
Transfer the queso to a serving bowl and garnish with chopped cilantro or green onions if desired.
Serve your "Greatest Queso That Ever Lived" hot with tortilla chips, crispy tortilla strips, or vegetable dippers like carrot and celery sticks.
Variations and Tips
Additional Ingredients: You can customize your queso by adding cooked crumbled sausage, ground beef, or cooked and diced chicken for a heartier dip.
More Heat: If you're a spice lover, consider adding some diced jalapeños or a dash of hot sauce for extra kick.
Cheese Blend: While white American cheese is the traditional choice for queso, feel free to experiment with other cheeses like cheddar, Monterey Jack, or pepper jack for unique flavor profiles.
Creamier Texture: If your queso starts to thicken as it cools, you can return it to the stovetop and add a splash of milk to achieve your desired consistency.
Keep It Warm: To keep your queso warm during a party or gathering, transfer it to a slow cooker on the "keep warm" setting or a fondue pot.
Storage: Leftover queso can be refrigerated in an airtight container for up to 3-4 days. Reheat it gently in the microwave or on the stovetop, stirring in a little milk if needed.
"The Greatest Queso That Ever Lived" is a testament to the magic of cheese, tomatoes, and spices coming together to create a flavor explosion. Whether you're sharing it with friends and family or savoring it on your own, this queso dip is bound to be a crowd-pleaser at any gathering. So, prepare a batch, gather your favorite dippers, and embark on a cheesy, creamy journey that might just make this queso the greatest you've ever tasted!