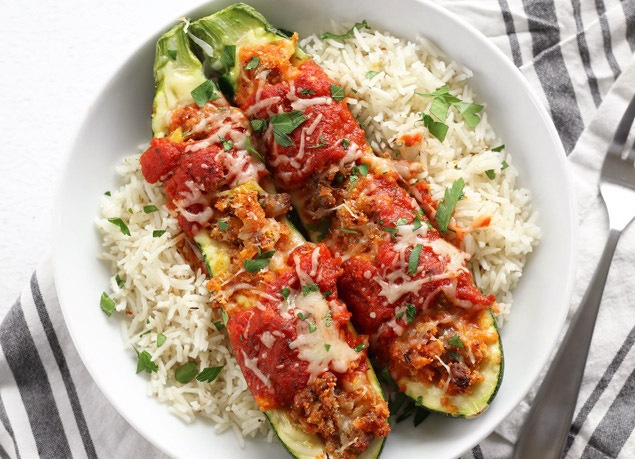 Ingredients
1/2 lb ground turkey, lamb or beef
1/2 cup raw long grain rice
2 tbsp currants
2 tbsp fresh dill, chopped or 2 tsp dried dill
2 tbsp fresh mint, chopped or 2 tsp dried mint
1/2 tsp salt
1/4 tsp cardamom
1/4 tsp allspice
1/4 tsp freshly cracked black pepper
1 tbsp concentrated tomato paste
1 tbsp olive oil
2 tsp garlic, minced
1 small yellow onion, chopped
1 28oz can diced tomatoes
1 tbsp concentrated tomato paste
1 tbsp fresh chopped mint or 1 tsp dried mint
2 cups chicken broth or beef broth if using beef or lamb
salt and freshly cracked pepper, to taste
Directions :
Wash the zucchini and cut each one into 3 or 4 sections. Using a melon scoop, scoop out the insides of each section leaving a "floor" in each one. You will end up with little zucchini "cups". Reserve the pulp for another use (I will post a recipe tomorrow). Set aside.
Combine the ground meat, rice, currants, dill, mint, salt, cardamom, allspice, pepper and tomato paste until well mixed.
Fill the hollowed out zucchini loosely with the meat mixture; the rice will expand during cooking and if the filling is too tight, the zucchini containers will burst.
Source : allrecipes.com