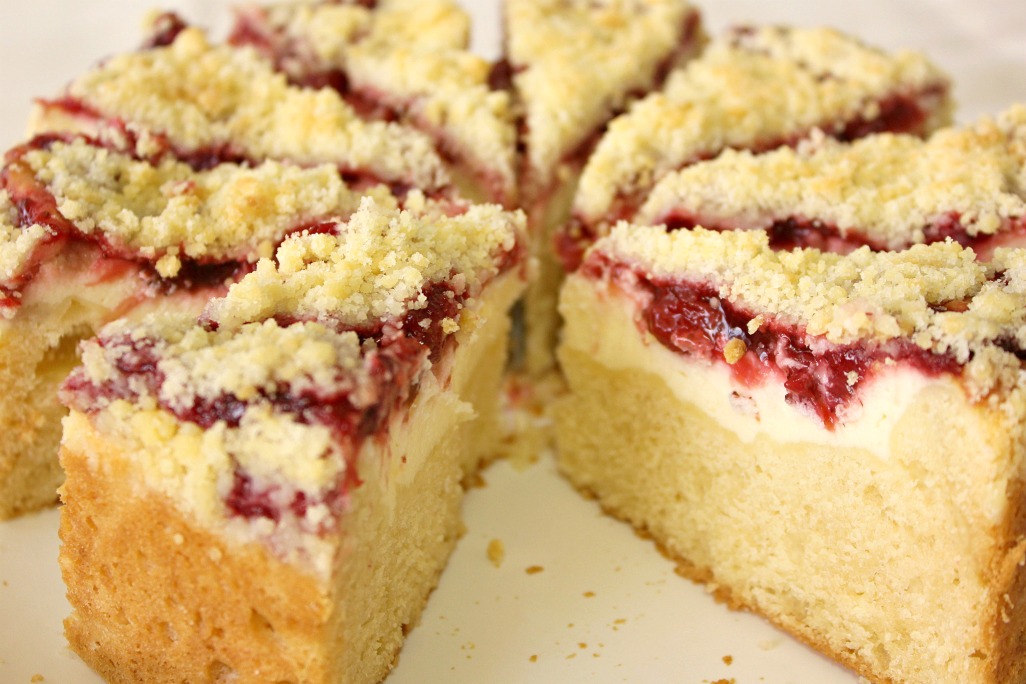 Ingredients
CRUMB TOPPING:
¼ cup all-purpose flour
¼ cup brown sugar
¼ teaspoon ground cinnamon
2 Tablespoons butter, cut into small pieces
CAKE:
1¼ cup all-purpose flour
½ teaspoon baking powder
¼ teaspoon baking soda
⅛ teaspoon salt
⅔ cup powdered sugar
¼ cup butter, softened
½ teaspoon vanilla extract
1 large egg
6 Tablespoons milk
2 Tablespoons lemon juice
1 cup strawberry jam
Instructions
Make Crumb Topping: In a medium sized bowl, combine flour, brown sugar and cinnamon together. Cut in butter with a pastry blender or your hands until mixture becomes crumbly. Set aside.
Preheat oven to 350 degrees. Spray 8-inch springform pan or round cake pan with cooking spray.
In a medium-sized bowl, whisk flour, baking powder, baking soda and salt.
Using a stand or hand mixer, combine powdered sugar and butter together. Add vanilla and egg. Add milk and lemon juice; beat for 2 minutes.
Add flour mixture to sugar mixture, and stir until smooth.
Spoon half of batter into prepared pan, spreading evenly. top with strawberry jam. Spoon remaining batter over strawberry layer. Sprinkle with crumb topping.
Bake for 45 minutes or until a toothpick inserted into center comes out clean. Cool for 10 minutes before removing sides from springform pan. Cool completely on wire rack.
Source : allrecipes.com