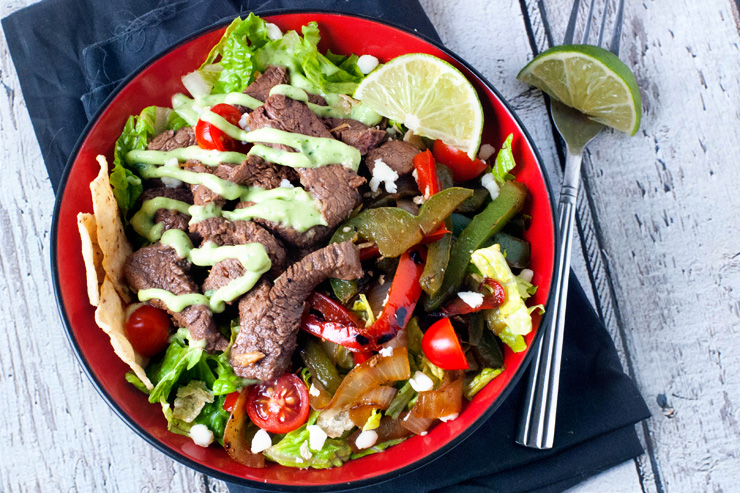 Ingredients
1 Flank Steak,
1½ Cup Rice, cooked (we add a little fajita seasoning in while it's cooking for more flavor)
Lettuce, chopped
Grilled Corn, sliced off the cob
Sauteed peppers and onions, sliced
Tortillas, cooked
Medium Cheddar Cheese, grated
For the Dressing
½ Avocado
Juice of 1 lemon
1 Teaspoon garlic, minced
2 Tablespoons Mayonnaise
2 Tablespoons Honey
¼ Teaspoon Cumin
Instructions
Heat a grill to medium high heat and sprinkle salt and pepper on each side of the meat. Cook for 6 to 8 minutes per side, remove from the grill and let rest for 2-3 minutes before slicing thin on the diagonal.
Meanwhile, in a blender combine all of the dressing ingredients and blend until smooth. Set aside.
To assemble: Sprinkle a little cheese on a tortilla and warm in a skillet until the cheese melts. Place the cheese tortilla in a bowl and top with rice, steak, corn, peppers and onions and lettuce. Drizzle with the dressing !
Source : allrecipes.com