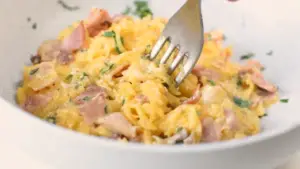 If you're a fan of classic Italian pasta dishes but are also looking for a healthier alternative, you're in for a treat! Today, we're going to dive into the world of Spaghetti Squash Carbonara. This unique twist on the traditional carbonara replaces pasta with spaghetti squash, making it a low-carb, gluten-free, and nutrient-packed delight.
In this comprehensive guide, we'll walk you through every step of the process, from selecting the perfect spaghetti squash to crafting a creamy, dreamy carbonara sauce. Plus, we'll share some expert tips and a tantalizing variation that will have your taste buds dancing. So, let's get started on this culinary adventure!
Ingredients
For this Spaghetti Squash Carbonara, you'll need the following ingredients:
For the Spaghetti Squash:
1 medium-sized spaghetti squash
2 tablespoons olive oil
Salt and pepper to taste
For the Carbonara Sauce:
4 strips of bacon, chopped
3 large eggs
1 cup grated Parmesan cheese
2 cloves garlic, minced
1/4 cup fresh parsley, chopped
Salt and black pepper to taste
Instructions
Preparing the Spaghetti Squash:
Preheat your oven to 375°F (190°C).
Carefully cut the spaghetti squash in half lengthwise.
Scoop out the seeds and pulp from each half.
Brush the inside of the squash with olive oil and season with salt and pepper.
Place the halves, cut side down, on a baking sheet.
Roast in the oven for 35-45 minutes, or until the squash flesh easily shreds into spaghetti-like strands with a fork.
Remove from the oven and let it cool slightly before using a fork to scrape out the strands.
Making the Carbonara Sauce:
In a skillet over medium heat, cook the chopped bacon until it's crispy.
Remove the bacon from the skillet and place it on paper towels to drain excess grease.
In a bowl, whisk together the eggs, grated Parmesan cheese, minced garlic, and chopped parsley.
Pour the egg mixture into the skillet with the bacon grease, stirring continuously over low heat until it thickens but doesn't scramble, about 2-3 minutes.
Remove from heat immediately and season with salt and black pepper.
Bringing it All Together:
In a large bowl, combine the roasted spaghetti squash strands and the carbonara sauce.
Toss everything together until the squash is well coated with the creamy sauce.
Sprinkle the crispy bacon on top.
Garnish with extra Parmesan cheese and fresh parsley, if desired.
Tips for Success
Be cautious not to overcook the spaghetti squash in the oven. You want it to be tender but not mushy.
Don't rush when adding the egg mixture to the bacon grease. Low heat and constant stirring are key to achieving a silky carbonara sauce.
Feel free to customize your Spaghetti Squash Carbonara with additional ingredients like sautéed mushrooms, peas, or cherry tomatoes for extra flavor and color.
Variation: Spaghetti Squash Carbonara with a Twist
For a unique twist on this already delightful dish, consider adding a dash of truffle oil and a handful of sautéed wild mushrooms. The earthy aroma of truffles combined with the rich, creamy carbonara sauce elevates this meal to gourmet status. It's a fantastic option for special occasions or when you want to impress your guests with your culinary prowess.
Spaghetti Squash Carbonara is a revelation for pasta lovers who are mindful of their health. By swapping out traditional pasta for roasted spaghetti squash, you get all the flavors of classic carbonara without the carb-heavy guilt. This dish is not only delicious but also incredibly satisfying, and it's sure to become a staple in your kitchen. Experiment with the variation, invite some friends over, and savor every guilt-free bite of this delightful Italian-inspired creation. Buon appetito!