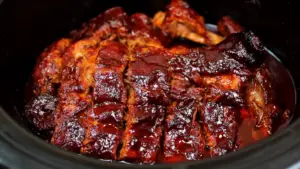 Slow-Cooker Barbecue Ribs are the ultimate comfort food for barbecue enthusiasts. This method of cooking ribs ensures they turn out fall-off-the-bone tender and bursting with smoky, savory flavor. Whether you're hosting a summer cookout, a game day gathering, or simply craving some finger-licking goodness, these slow-cooked ribs are sure to satisfy your BBQ cravings.
Ingredients
For the Ribs:
2 racks of baby back ribs (about 4-5 pounds)
1 tablespoon brown sugar
1 tablespoon smoked paprika
1 tablespoon garlic powder
1 tablespoon onion powder
1 tablespoon chili powder
1 teaspoon cayenne pepper (adjust for heat preference)
Salt and black pepper to taste
2 cups of your favorite barbecue sauce
For the BBQ Sauce:
You can use store-bought barbecue sauce or make your own by combining ketchup, brown sugar, apple cider vinegar, Worcestershire sauce, and spices.
Instructions
Preparing the Ribs:
Start by removing the membrane from the back of the ribs. Slide a butter knife under the membrane and lift it off. This step ensures the ribs become tender and flavorful during cooking.
In a small bowl, mix together the brown sugar, smoked paprika, garlic powder, onion powder, chili powder, cayenne pepper, salt, and black pepper to create a dry rub.
Pat the ribs dry with paper towels, then rub the dry spice mixture generously over both sides of the racks.
Slow-Cooker Set Up:
Pour a thin layer of barbecue sauce into the bottom of your slow cooker to prevent the ribs from sticking.
Stand the racks of ribs along the inside of the slow cooker, curving them around the walls of the pot. This helps them fit better and ensures even cooking.
Slow Cooking:
Cover the slow cooker and set it to cook on low for 6-7 hours. Slow cooking is the key to tender ribs, so resist the urge to rush the process.
Finishing with BBQ Sauce:
About 30 minutes before the cooking time is up, preheat your grill to medium-high heat.
Carefully remove the ribs from the slow cooker and place them on the preheated grill.
Brush a generous layer of barbecue sauce over the ribs and let them grill for about 10-15 minutes, turning occasionally and brushing with more sauce.
The ribs are ready when they have a nice caramelized layer of barbecue sauce and a smoky flavor from the grill.
Serving:
Transfer the grilled ribs to a cutting board and let them rest for a few minutes.
Slice the ribs between the bones, and serve them hot with extra barbecue sauce for dipping.
Variations and Tips
Different Cuts: If you prefer a different cut of ribs, like spare ribs or St. Louis-style ribs, you can use the same slow-cooking method and adapt the cooking time as needed.
Spice Level: Adjust the cayenne pepper to your spice preference. If you like it hot, add more; for milder ribs, use less or omit it altogether.
Customized Sauce: Customize your barbecue sauce with additional ingredients like honey, hot sauce, or liquid smoke to match your preferred flavor profile.
Broiler Option: If you don't have access to a grill, you can achieve a similar caramelized effect by placing the sauced ribs under a broiler for a few minutes.
Make Ahead: You can season the ribs with the dry rub and store them in the refrigerator a day in advance for even more flavor.
Side Dishes: Serve your slow-cooker barbecue ribs with classic BBQ sides like coleslaw, baked beans, cornbread, or potato salad.
Storage: Leftover ribs can be refrigerated for up to three days or frozen for longer storage. Reheat them in the oven or microwave.
Slow-Cooker Barbecue Ribs are the epitome of BBQ perfection. With a simple dry rub and slow-cooking magic, you can achieve ribs that are tender, juicy, and packed with smoky flavor. Whether you're a seasoned pitmaster or a BBQ novice, this recipe allows you to enjoy mouthwatering ribs right at home. So, fire up that slow cooker and grill, and get ready to savor the unbeatable taste of homemade barbecue ribs.