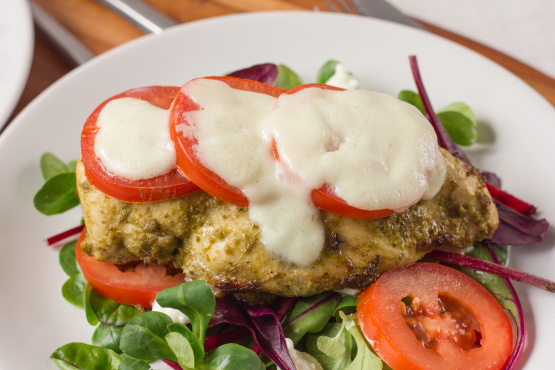 Ingredients:
2 (16 oz) boneless, skinless chicken breasts
salt and pepper to taste
4 tsp skinny basil pesto *see recipe below
Roma tomatoes, thinly slices
6 Tbsp shredded reduced fat mozerella cheese
2 tsp grated parmesan
Basil Pesto:
1 cup fresh basil
1 clove garlic
1/4 cup grated parmesan
salt and pepper to taste
2 1/2 tbsp olive oil
Directions
1.  Preheat the oven to 400 degrees.  Prepare the basil pesto by pulsing in a food processor.  Add the basil, garlic, parmesan, and salt and pepper.  Slowly add the olive oil.  Set aside.
2. Wash the chicken and dry with paper towel.  Slice the chicken breast horizontally to create four thinner cutlets.
3.  Line a baking sheet with foil or parchment paper.  Lay chicken on the foil.  Spread 1 tsp basil pesto on top.  Bake for 15 minutes until the center is no longer pink.
4.  Remove from oven and top with tomatoes, mozzarella, and parmesan cheese.  Bake for another 3-5 minutes or until cheese is melted.
Source : allrecipes.com