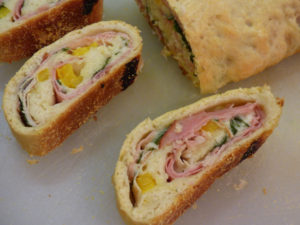 Ingredients
Directions
Preheat oven to 425 degrees F (220 degrees C).

Heat a large skillet over medium-high heat; cook and stir sausage until crumbly, evenly browned, and no longer pink, about 10 minutes. Drain and discard any excess grease.

Pat out bread dough on an ungreased baking sheet, to 3/4-inch thickness. Lay salami, ham, and American cheese slices in center of dough. Sprinkle with mozzarella cheese, salt, pepper, and cooked sausage. Wrap dough to cover ingredients, pinching and sealing edges to prevent leakage; brush top with egg white.

Bake in preheated oven until dough is baked and lightly browned, 17 to 20 minutes.
Source : allrecipes.com