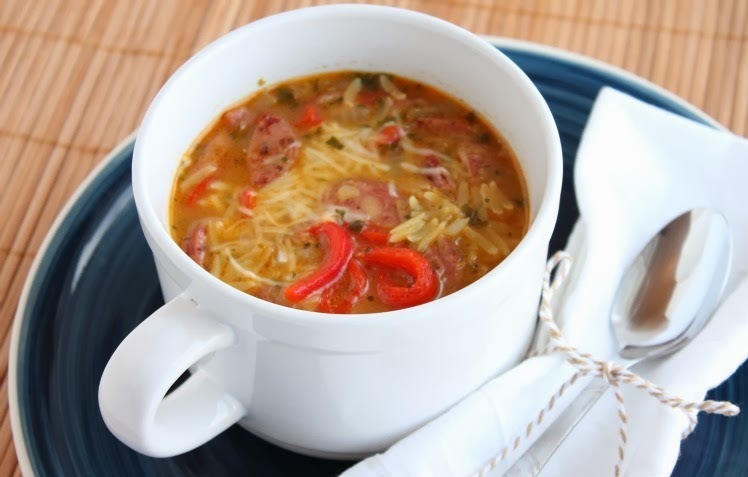 Ingredients
1 pound ground Italian sausage
3 assorted bell peppers, thinly sliced
1 (32 oz.) box low-sodium chicken stock
2 cups marinara sauce
1/4-1/2 cup heavy cream, optional
1 yellow onion, thinly sliced
4 cloves garlic, minced
2 bay leaves
2 sprigs rosemary
1 sprig thyme
1 bunch fresh oregano or 1/2 teaspoon dried oregano
2 tablespoons extra-virgin olive oil
1/2 teaspoon red pepper flakes, optional
kosher salt and freshly ground pepper, to taste
herb infuser
garlic croutons, garnish
parmesan cheese, grated, garnish
Directions
Heat olive oil in a large stock pot or Dutch oven over medium-high heat and sauté onion and bell pepper for 6-8 minutes, or until softened.
Add minced garlic and cook for 1 minute, or until fragrant, then season generously with salt and pepper and red pepper flakes, if using.
Pushing veggies to the edges of pot, add ground sausage and cook, breaking up as necessary, until browned. Season again with salt and pepper.
Taking your herb infuser, insert bay leaves, rosemary, thyme and fresh oregano, if using. Seal herb infuser and set aside.
Stir in marinara sauce and cook for 2 minutes, then pour in chicken broth and drop in packed herb infuser. Bring mixture to a boil, then reduce heat and let simmer for 15-20 minutes.
Taste and adjust seasoning, if necessary, then stir in heavy cream. Remove herb infuser when ready to serve.
Ladle soup to serving bowls and garnish with croutons and cheese. Enjoy!
Source : allrecipes.com