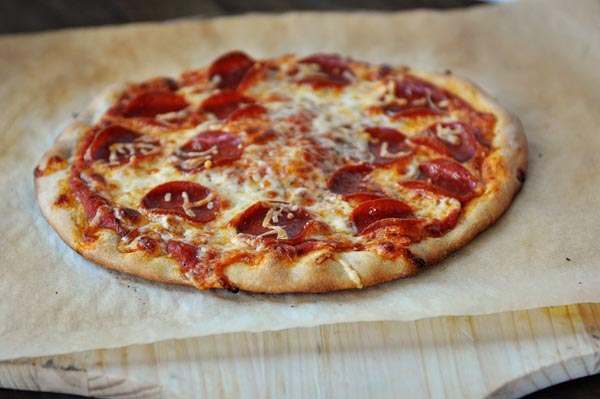 Ingredients
1 1/2 cups warm water
2 packets (1/4 ounce each) active dry yeast
2 teaspoons granulated sugar
1/4 cup extra virgin olive oil, plus more for bowl and drizzling
1 teaspoon salt
4 cups all-purpose flour (spooned and leveled), plus more for work surface
Directions
Pour the water into a large bowl; sprinkle with yeast and let stand until foamy, about 5 minutes. Whisk in the sugar, oil, and salt. Add flour and stir until a sticky dough forms.
Lightly brush another large bowl with a little olive oil. Place dough inside and drizzle a little oil over the top. Cover with plastic wrap and set aside in a warm, draft-free place until dough has doubled in size, about 1 hour.
Turn out onto a lightly floured work surface and gently knead 1 or 2 times, forming into a round. Let rest for about 10 more minutes.
Use or store as is for 1 large pizza, or divide into 4 equal portions for individual pizzas.
Source : allrecipes.com