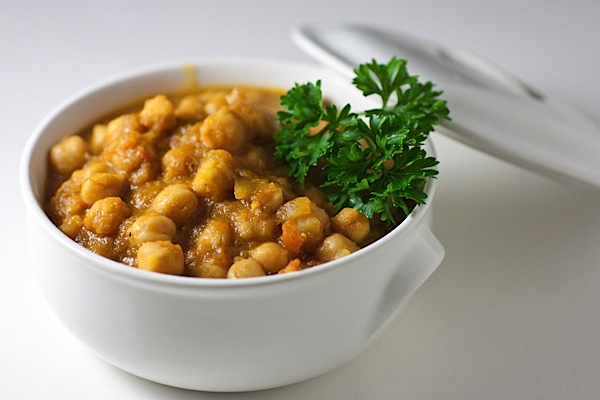 INGREDIENTS
1 tablespoon (15 mL) coconut oil or olive oil
1½ teaspoons (7 mL) cumin seeds
1 yellow onion, diced
1 tablespoon (15 mL) minced fresh garlic
1 tablespoon (15 mL) minced peeled fresh ginger
1 green serrano chile pepper, seeded, if preferred, and minced
1½ teaspoons (7 mL) garam masala
1½ teaspoons (7 mL) ground coriander
½ teaspoon (2 mL) ground turmeric
¾ teaspoon (4 mL) fine-grain sea salt, plus more as needed
¼ teaspoon (1 mL) cayenne pepper (optional)
1 (28-ounce/793-g) can whole peeled or diced tomatoes, with their juices
1 (28-ounce/793-g) can chickpeas, or 3 cups (750 mL) cooked chickpeas, drained and rinsed
1 cup (250 mL) dry/uncooked basmati rice, for serving
Fresh lemon juice, for serving
Fresh cilantro, chopped, for serving

INSTRUCTIONS

In a large wok or saucepan, heat the oil over medium heat. When a drop of water sizzles upon hitting the pan, reduce the heat to medium-low and add the cumin seeds. Stir and toast the seeds for a minute or two until golden and fragrant, watching carefully to avoid burning.
Raise the heat to medium and stir in the onion, garlic, ginger, and serrano. Cook for a few minutes or so, then stir in the garam masala, coriander, turmeric, salt, and cayenne (if using), and cook for 2 minutes more.
Add the whole peeled tomatoes and their juices and break them apart with a wooden spoon (skip if using diced tomatoes). You can leave some chunks of tomato for texture.
Raise the heat to medium-high and add the chickpeas. Bring the mixture to a simmer and cook for 10 minutes or longer to allow the flavors to develop.
Serve over cooked basmati rice, if desired, and garnish with a squeeze of fresh lemon juice and some chopped cilantro just before serving.
Source : allrecipes.Com