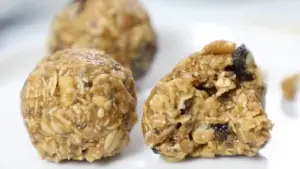 Fall is in the air, and that means it's pumpkin season! But let's move beyond the classic pumpkin pie and pumpkin spice latte. Today, I'm going to introduce you to a delightful and healthy treat that embodies the essence of the season – Pumpkin No-Bake Energy Bites. These little gems are not only incredibly easy to make but are also packed with the wholesome goodness of oats, nuts, and, of course, pumpkin. Whether you need a quick breakfast, a post-workout snack, or a sweet treat for your afternoon pick-me-up, these energy bites have got you covered. Plus, they're a great way to satisfy your pumpkin cravings without the guilt. So, grab your apron, and let's dive into this autumn-inspired recipe that's as delicious as it is nutritious.
Ingredients
Here's what you'll need to whip up a batch of these Pumpkin No-Bake Energy Bites:
Dry Ingredients:
1 cup rolled oats
1/2 cup pumpkin puree (canned or homemade)
1/2 cup chopped nuts (walnuts, pecans, or almonds work great)
1/4 cup ground flaxseed
1/4 cup dried cranberries or raisins
1/4 cup shredded coconut (unsweetened)
1/4 cup mini chocolate chips (optional, but oh-so-good)
1 teaspoon pumpkin pie spice
A pinch of salt
Wet Ingredients:
1/4 cup honey or maple syrup (adjust to your desired sweetness)
1 teaspoon vanilla extract
Instructions
Now that you have your ingredients ready, let's get started with making these delectable Pumpkin No-Bake Energy Bites:
Combine Dry Ingredients: In a large mixing bowl, add the rolled oats, chopped nuts, ground flaxseed, dried cranberries (or raisins), shredded coconut, mini chocolate chips (if using), pumpkin pie spice, and a pinch of salt. Give it all a good stir to ensure everything is evenly distributed.
Add Wet Ingredients: In a separate small bowl, mix together the pumpkin puree, honey (or maple syrup), and vanilla extract until well combined.
Combine Mixtures: Pour the wet mixture over the dry ingredients. Stir everything together until it's well mixed. You should have a sticky, uniform dough.
Chill the Dough: Cover the bowl with plastic wrap and pop it in the fridge for about 30 minutes. This will make the dough easier to handle.
Shape Into Bites: Once the dough has chilled, take it out of the fridge. With slightly damp hands, scoop out small portions of the dough and roll them into bite-sized balls. You can make them as big or as small as you like.
Set and Serve: Place the energy bites on a tray or plate lined with parchment paper. Let them set in the refrigerator for at least an hour. After that, they are ready to be enjoyed!
Tips for Success
Customize Your Bites: Don't be afraid to get creative. You can swap out the nuts, use different dried fruits, or even add a sprinkle of cinnamon for extra flavor.
Storage: Keep your Pumpkin No-Bake Energy Bites in an airtight container in the fridge. They'll stay fresh for up to a week. You can also freeze them for longer storage.
Perfect for On-the-Go: These energy bites are the ideal snack to take with you when you're on the move. Whether it's a hike in the colorful autumn woods or a busy day at work, they'll keep you fueled and satisfied.
Health Benefits: Thanks to the oats, flaxseed, nuts, and pumpkin, these bites are loaded with fiber, healthy fats, and vitamins. They make for a nutritious snack that will keep your energy levels stable throughout the day.
Variations to Explore
Feel free to experiment with different flavors and ingredients to keep things exciting. Here are a few variations to consider:
1. Pumpkin Spice Latte Bites
Add a tablespoon of instant coffee granules to the mix for a caffeinated twist on your energy bites. You'll get that pumpkin spice latte flavor in a portable, bite-sized form.
2. Apple Pie Delight
Instead of pumpkin puree, use unsweetened applesauce and toss in some diced dried apples and a sprinkle of cinnamon. It's like having a slice of apple pie on the go!
3. Nut-Free Option
For those with nut allergies, replace the nuts with sunflower seeds or pumpkin seeds for a crunchy texture without the nuts.
4. Protein Boost
Incorporate your favorite protein powder into the mix to give these bites an extra protein punch. This is especially great for post-workout snacks.
Pumpkin No-Bake Energy Bites are the perfect embodiment of autumn's warmth and comfort in a single, nutritious bite. Not only are they easy to make, but they also offer a fantastic canvas for your creativity. Whether you stick to the classic recipe or try one of the exciting variations, you're sure to have a delicious and healthy treat on hand for those busy fall days.
So, as the leaves change colors and the air turns crisp, treat yourself to the flavors of the season with these delightful energy bites. They're a reminder that autumn is a time for cozy comforts and tasty indulgences, all while staying true to your health and wellness goals. Enjoy every bite, and let this season's charm embrace you in the most delightful way possible. Happy snacking! 🎃🍂