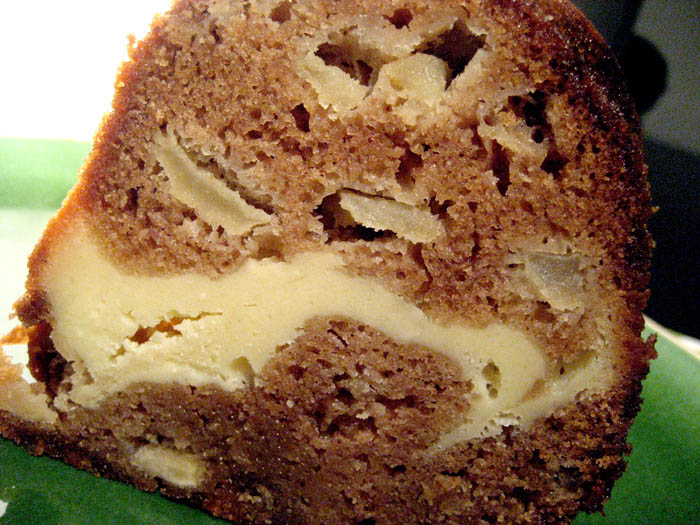 Ingredients
1 cup light sour cream or Greek yogurt
1 cup canola oil
4 large eggs
3 teaspoons vanilla
2 cups lightly packed brown sugar
3 teaspoons baking powder
½ teaspoon baking soda
½ teaspoon salt
2 teaspoons cinnamon
3 cups all purpose flour
2 apples, finely chopped
1 apple, shredded
1½ cups chopped, toasted pecans, divided
Glaze
1 cup brown sugar
½ cup milk or cream
1 tablespoon butter
1½ cups powdered icing sugar
Instructions
Preheat oven to 350 degrees F. Grease a 10 cup bundt pan.
In a large bowl, whisk together sour cream or yogurt, oil, eggs and vanilla. Whisk in brown sugar until smooth.
Add baking powder, baking soda, salt, cinnamon and stir until combined. Stir in flour just until combined. Stir in chopped and shredded apples and 1 cup pecans.
Pour into greased bundt pan and bake for 50-55 minutes, until a toothpick comes out clean. Let cool in pan for 15-20 minutes before inverting onto a cooling rack to cool to room temperature.
Glaze
In a medium saucepan, combine brown sugar and milk. Bring to a boil over medium heat and cook for 3-4 minutes, whisking constantly.
Remove from heat and stir in butter until melted. Stir in powdered sugar and whisk until smooth. Let cool 5-10 minutes to thicken slightly before pouring over cooled cake. Sprinkle with remaining ½ cup pecans.
Source : allrecipes.com