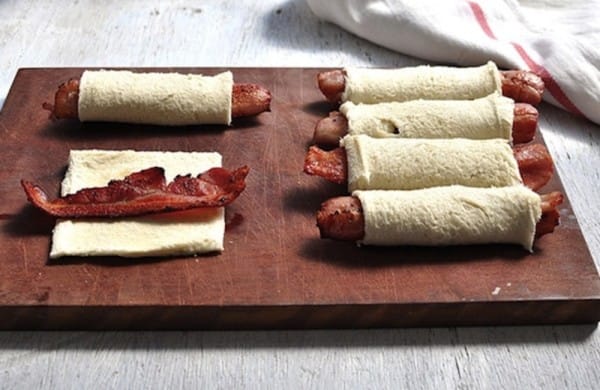 Ingredients:
12 breakfast sausage links
2 eggs
¾ cup milk
1/4 cup granulated sugar
1/4 teaspoon ground cinnamon
Pinch of nutmeg
Pinch of salt
12 slices white bread, crusts removed
Instructions:
1. Bake or fry sausage links until browned and cooked all the way through.
2. Meanwhile, whisk egg in large bowl with milk, sugar, cinnamon and nutmeg.
3. Take bread slice, flatten with fingertips and place 1 sausage link on one end. Roll bread slice tightly around sausage. Dip in egg mixture, then sautee in buttered pan over medium heat until golden on all sides. Repeat with remainder of roll ups and serve while warm with powdered sugar and maple syrup.
Source : allrecipes.com