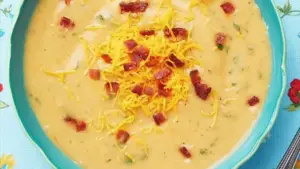 Perfect Potato Soup is the epitome of comfort food. Creamy, hearty, and packed with the comforting flavors of potatoes, onions, garlic, and herbs, this soup is a soul-soothing delight. Whether you're seeking warmth on a chilly day or a bowl of wholesome goodness, this recipe will show you how to create a classic potato soup that's, well, simply perfect.
Ingredients
For the Potato Soup:
4 cups russet potatoes, peeled and diced into 1/2-inch cubes
1 cup onion, finely chopped
4 cloves garlic, minced
4 cups chicken or vegetable broth
2 cups milk (whole or 2% for creaminess)
1/2 cup heavy cream (optional, for extra richness)
2 tablespoons butter
2 tablespoons all-purpose flour
2 tablespoons olive oil
1 teaspoon dried thyme
1 bay leaf
Salt and pepper to taste
Chopped fresh chives or green onions (for garnish, optional)
For Garnish (Optional):
Shredded cheddar cheese
Crispy bacon bits
Sour cream
Instructions
Sautéing the Aromatics:
In a large pot or Dutch oven, heat the olive oil and butter over medium heat.
Add the chopped onions and sauté until they turn translucent, about 3-4 minutes.
Stir in the minced garlic and sauté for an additional 1-2 minutes, being careful not to let the garlic brown.
Creating the Soup Base:
Sprinkle the flour over the sautéed onions and garlic. Stir continuously for 2-3 minutes to create a roux. The roux will help thicken the soup.
Slowly pour in the chicken or vegetable broth while whisking constantly to prevent lumps from forming.
Add the diced potatoes, dried thyme, bay leaf, salt, and pepper to the pot. Stir to combine.
Bring the mixture to a boil, then reduce the heat to low, cover, and simmer for about 15-20 minutes, or until the potatoes are fork-tender.
Blending and Simmering:
Remove the bay leaf from the pot and discard it.
Use an immersion blender to carefully blend the soup until it reaches your desired level of creaminess. Alternatively, transfer a portion of the soup to a blender and blend until smooth, then return it to the pot.
Pour in the milk and heavy cream (if using). Stir well to combine.
Simmer the soup over low heat for an additional 10-15 minutes, allowing the flavors to meld together. Stir occasionally.
Serving:
Ladle the Perfect Potato Soup into bowls.
Garnish each serving with chopped chives or green onions, and if desired, shredded cheddar cheese, crispy bacon bits, and a dollop of sour cream.
Variations and Tips
Vegetarian Version: Use vegetable broth instead of chicken broth and omit the bacon for a delicious vegetarian potato soup.
Extra Creamy: If you're craving an even creamier soup, increase the amount of heavy cream or use half-and-half.
Cheesy Twist: Add grated sharp cheddar cheese to the soup for a cheesy potato soup variation.
Chunky Style: If you prefer a chunkier texture, mash the potatoes with a potato masher instead of using an immersion blender.
Spice It Up: Add a pinch of cayenne pepper or red pepper flakes for a subtle kick.
Potato Varieties: Experiment with different potato varieties like Yukon Gold or red potatoes for unique flavors and textures.
Serve with Bread: Potato soup pairs wonderfully with crusty bread, rolls, or garlic bread for a satisfying meal.
Storage: Leftover potato soup can be refrigerated for up to 3-4 days. Reheat gently on the stovetop or in the microwave.
Perfect Potato Soup is a warm, comforting hug in a bowl. Whether enjoyed as a meal on its own or as a cozy starter, this creamy potato soup is a classic that never goes out of style. With its simple yet satisfying ingredients and customizable options, it's a versatile dish that can be tailored to your taste preferences. So, whip up a batch, garnish it to your heart's content, and savor the soothing goodness of Perfect Potato Soup.