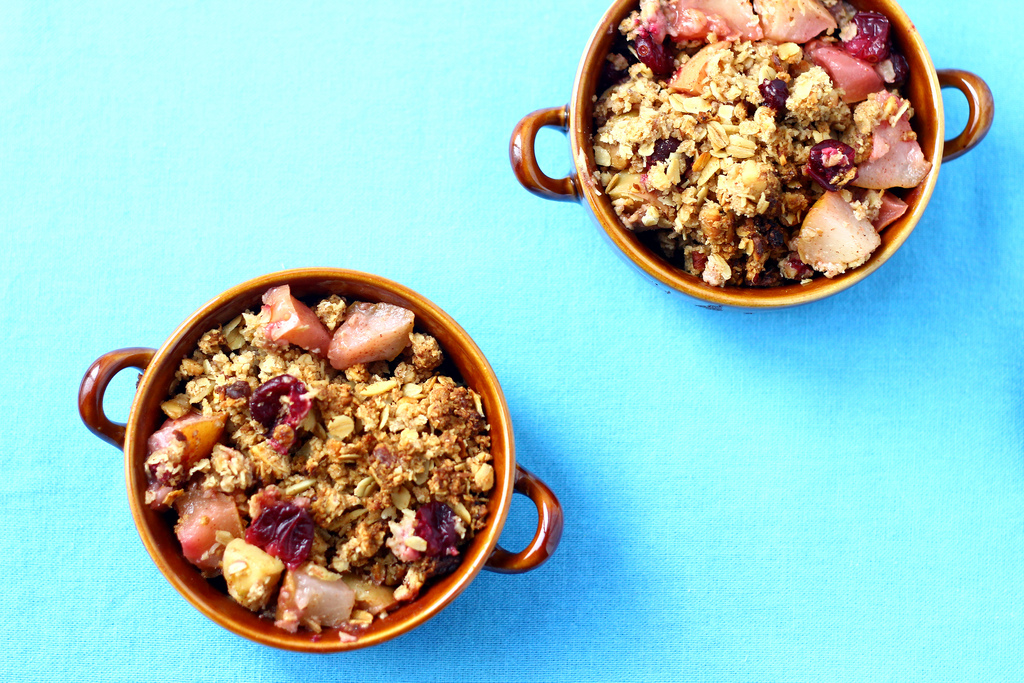 Ingredients
FILLING:
3 medium ripe but slightly firm pears, peeled, cored, and diced
1 cup fresh cranberries
1 tablespoon lemon juice
1/2 cup coconut sugar (or brown sugar)
1 tablespoon white whole wheat flour
1 teaspoon cornstarch
1 teaspoon ground cinnamon
1/2 teaspoon ground nutmeg
TOPPING:
1/4 cup old-fashioned rolled oats
1/3 cup white whole wheat flour
1/4 cup coconut sugar (or brown sugar)
1 teaspoon ground cinnamon
1/4 cup cold butter, cubed
Ice cream or whipped cream for serving, optional
Instructions
Preheat oven to 350F. Lightly grease 4 8-oz ramekins and set aside.
Make the filling: In a medium bowl, combine all filling ingredients until evenly combined. Divide filling evenly between prepared ramekins.(filling should come up the brim)
Make the topping: In a small bowl oats, flour, sugar, and cinnamon. Cut in butter with a fork or pastry cutter until topping is crumbly.
Sprinkle topping evenly over pear-cranberry filling and gently press to adhere crumbs. Bake crisps at 350F 20-25 minutes or until filling is bubbly and topping is golden. Cool several minutes on a wire cooling rack, then serve crisps warm with ice cream or whipped cream if desired. Enjoy!
Source : allrecipes.Com