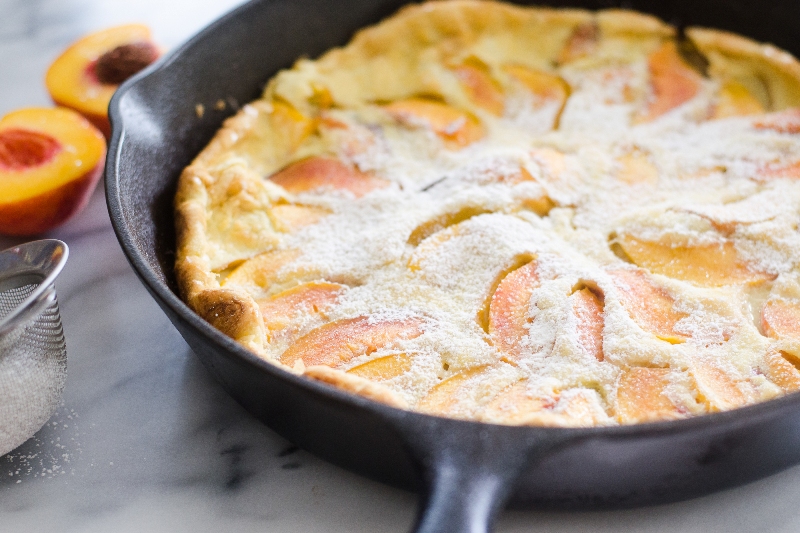 Ingredients
3 tablespoons sugar, divided
1 teaspoon cinnamon, divided
2 cups peeled, sliced peaches (about 10 to 12 ounces, fresh or frozen)
2 tabespoons butter
3 eggs, at room temperature
½ cup milk, at room temparature
½ cup all-purpose flour
⅛ teaspoon salt
1 teaspoon pure vanilla extract
Powdered sugar
Instructions
Position oven rack one level lower than center and preheat oven to 400°F.
In a medium bowl, blend 2 tablespoons sugar with ½ teaspoon cinnamon. Stir in peach slices and toss until evenly coated.
Place butter in a 9 to 10-inch glass pie plate or ovenproof skillet. Place dish in oven for a couple of minutes until butter is melted. Use a potholder to remove dish from oven and swirl to evenly coat bottom with melted butter.
Spread peach slices over butter in an even layer and return to oven to bake for 10 minutes.
While peaches are baking, pour eggs, milk, flour, salt, vanilla, and remaining 1 tablespoon sugar and ½ teaspoon cinnamon in a blender. Blend on medium speed for 1 minute. Once peaches have baked, remove dish from oven with a potholder and slowly pour batter over peaches.
Bake for 20 minutes or until pancake is golden brown and puffy. Allow to cool for a few minutes on a wire rack (it will significantly deflate) before dusting with powdered sugar, slicing, and serving warm.
Source : allrecipes.Com