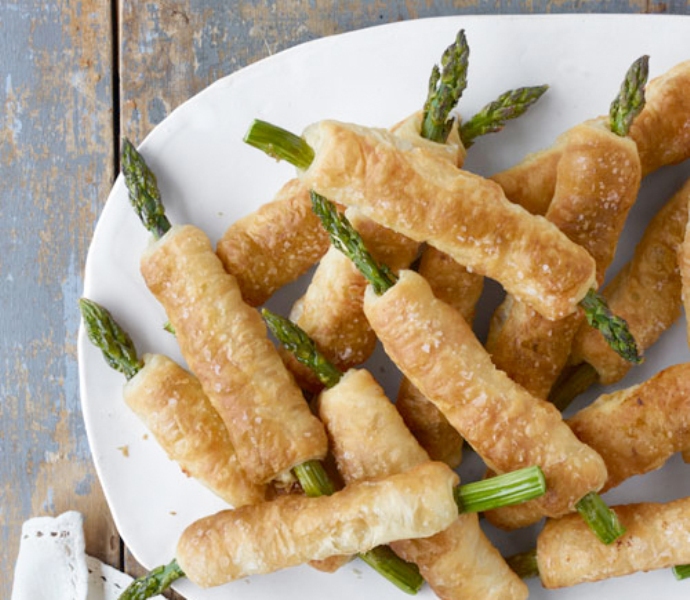 Ingredients
1 (17.3 oz.) box frozen puff pastry, 2 sheets, thawed
1 pound asparagus
1 bay leaf
1 egg, lightly beaten
3/4 cup Parmesan cheese, grated
3/4 cup balsamic vinegar
1 tablespoon sugar
1 tablespoon sea salt
1 small bowl water
Hollandaise:
4 egg yolks
3/4 cup (1 1/2) sticks unsalted butter
2 tablespoons freshly squeezed lemon juice
1 pinch cayenne pepper
salt, to taste
Directions
Preheat oven to 400 F and line 2 baking sheets with parchment paper or aluminum foil.
Combine beaten egg with a splash of water in a small bowl and set aside.
Lay pastry sheets out flat and cut into thirds along the folds. You should have 6 rectangles.
Roll out each rectangle to about 6×10 inches and cut each rectangle into 3-4 triangles. (Cut in a zig-zag motion.) Repeat with remaining pastry.
Sprinkle all cut triangles with Parmesan cheese.
Place asparagus on the bottom, long edge of pastry triangle and wrap to encase the vegetable. Seal the edge (which should be on top) with a brush of water from small bowl.
Transfer asparagus wraps to baking sheets and lightly brush the tops with beaten egg.
Sprinkle all wraps with sea salt, place in oven and bake for 15-16 minutes, or until puffed up and golden brown.
For Balsamic dipping sauce: In a small saucepan over medium-high heat, combine balsamic, sugar and bay leaf together and bring to a boil.
Cook until mixture has thickened and is reduced. 10-15 minutes. Discard bay leaf.
Set up a double boiler by placing a medium saucepan, 1-inch full of water, over medium-low heat. Bring to a boil, then reduce to a simmer.
For Hollandaise: Melt butter in the microwave and skim off top layer of butter fat. Let cool 2-3 minutes.
In a heat-proof bowl, whisk egg yolks until smooth and place bowl over simmering water, whisking constantly until yolks lighten in color and double in volume.
Lower heat and gradually pour a little melted butter into egg yolks. Continue whisking and slowly add remaining butter.
Once completely incorporated, add salt, cayenne and lemon juice and mix together until smooth.
Serve asparagus immediately with hollandaise and balsamic dipping sauces drizzled on top or served on the side.
Source : allrecipes.com