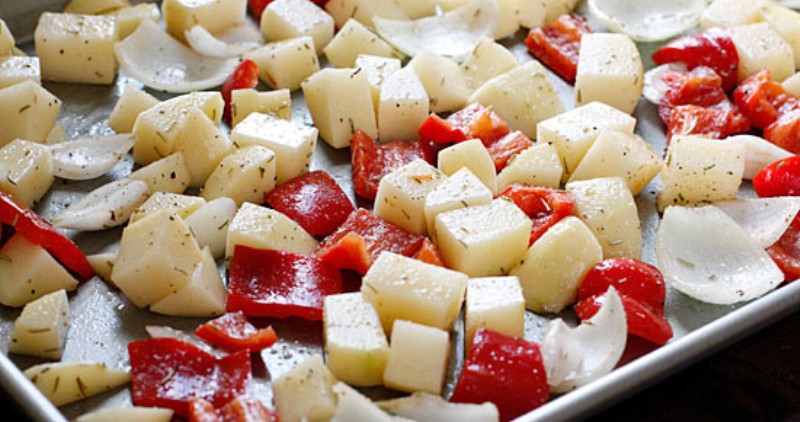 INGREDIENTS
4 cup chopped broccoli stems
24 ounces baby red potatoes, cut in half
5 tablespoons olive oil, divided
2 teaspoons fresh rosemary, minced
4 cloves of garlic, minced
salt & pepper, to taste
One 12-ounce package of Aidell's Chicken & Apple Sausages, sliced about an inch thick
INSTRUCTIONS
Preheat oven to 375 degrees.
In a bowl toss together the potatoes (cut in half) 3 tablespoons olive oil, 3 cloves of garlic minced and rosemary to coat the potatoes evenly. Season with salt and pepper.
Spread out on a baking sheet and bake for 20-minutes.
In the same bowl, add broccoli, 2 tablespoons olive oil, 1 clove of garlic minced and season with salt and pepper. Toss to coat broccoli.
Once the potatoes have cooked for 30-35 minutes or until fork tender. Remove from the oven and turn each potato over, then add broccoli to a baking sheet and place back in the oven. Cook for 8 minutes.
Remove baking sheet from the oven and add sausages. Mix it all together and then spread out again evenly on the pan and place back in the oven and bake for another 12-15 minutes.
Remove from oven, plate and serve. Be sure to be careful on the first bite – it coming from the oven it can be hot. If you need to let it cool down for a few minutes.
Source : allrecipes.Com