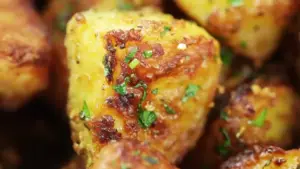 Olive Garden Roasted Potatoes offer a delightful Italian-inspired take on this classic side dish. These roasted potatoes are seasoned to perfection with a blend of herbs, garlic, and Parmesan cheese, creating a savory and crispy exterior while remaining tender and fluffy on the inside. Whether you're a fan of Olive Garden's famous dishes or simply looking to elevate your potato game, this recipe will have you savoring the flavors of Italy right at your table.
Ingredients
For the Roasted Potatoes:
2 pounds red or Yukon Gold potatoes, washed and cut into bite-sized pieces
3 tablespoons olive oil
3 cloves garlic, minced
1 teaspoon dried oregano
1 teaspoon dried basil
1/2 teaspoon dried thyme
1/2 teaspoon dried rosemary
1/2 teaspoon paprika
1/2 cup grated Parmesan cheese
Salt and black pepper to taste
Fresh parsley, chopped (for garnish, optional)
Instructions
Preparing the Roasted Potatoes:
Preheat your oven to 425°F (220°C). Place a baking sheet in the oven while it preheats.
In a large mixing bowl, combine the olive oil, minced garlic, dried oregano, dried basil, dried thyme, dried rosemary, and paprika. Mix well to create a flavorful herb-infused oil.
Add the cut potatoes to the bowl and toss them in the herb-infused oil until they are evenly coated.
Season the potatoes with salt and black pepper to taste. Be generous with the seasoning; it enhances the flavor of the potatoes.
Roasting the Potatoes:
Carefully remove the hot baking sheet from the oven (use oven mitts). Spread the seasoned potatoes evenly on the sheet in a single layer. The hot sheet will help create a crispy crust.
Roast the potatoes in the preheated oven for about 25-30 minutes, or until they are golden brown and crispy on the outside. Be sure to toss them halfway through to ensure even cooking.
Finishing Touches:
Remove the roasted potatoes from the oven and immediately sprinkle the grated Parmesan cheese over the hot potatoes. The residual heat will melt the cheese and create a delicious coating.
If desired, garnish with freshly chopped parsley for a burst of color and freshness.
Serving:
Serve your Olive Garden Roasted Potatoes as a delightful side dish to complement your main course.
Variations and Tips
Herb Variations: Feel free to experiment with different herbs and spices. Fresh herbs like rosemary, thyme, and basil can be used in place of dried ones for an even more vibrant flavor.
Cheese Options: While Parmesan cheese works wonderfully, you can also try Asiago, Pecorino Romano, or a blend of your favorite Italian cheeses for a different twist.
Adding Heat: If you like a bit of spice, sprinkle some crushed red pepper flakes over the potatoes before roasting for a kick of heat.
Crunchy Texture: For an extra crispy texture, place a wire rack on the baking sheet and roast the potatoes on top of it. This allows for better air circulation and crispier results.
Make It Vegan: Omit the Parmesan cheese or use a plant-based alternative to make this dish vegan-friendly.
Leftovers: Any leftover roasted potatoes can be stored in an airtight container in the refrigerator for up to 3 days. Reheat them in the oven or a skillet for a crispy texture.
Olive Garden Roasted Potatoes bring the flavors of Italy to your table with a perfect blend of herbs, garlic, and Parmesan cheese. These roasted potatoes are not only easy to make but also a fantastic side dish that pairs well with a variety of main courses. Whether you're serving them for a family dinner or a special occasion, these flavorful roasted potatoes are bound to impress your taste buds and transport you to the heart of Italian cuisine. Buon appetito!