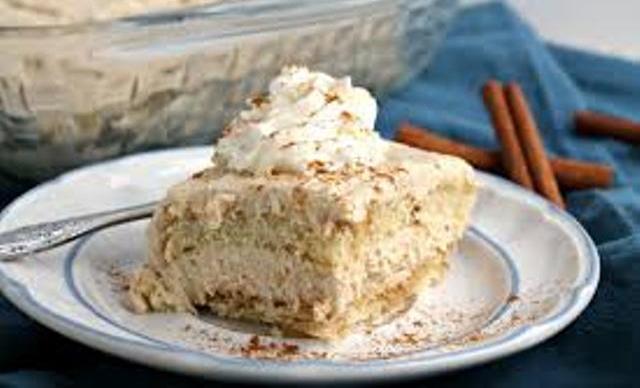 INGREDIENTS
1 package (3 oz) ladyfingers, split
1/4 strongly brewed coffee + 1 tbsp sugar mixed in
1 cinnamon stick
1 (3.5 oz) package instant vanilla pudding mix
1 cup cold milk
4 oz mascarpone cheese
1 1/2 cups whipping topping, thawed
1 tsp ground cinnamon, plus more for dusting
INSTRUCTIONS
Strongly brew a cup of coffee. While still hot, mix in the sugar. Drop in the cinnamon stick and allow to steep for 1 hour. Remove the cinnamon stick and allow the infused coffee to cool completely.
In a large mixing bowl, beat together the vanilla pudding mix & cold milk. Then beat in the mascarpone cheese until smooth & creamy. Fold in the whipped topping & ground cinnamon. Set aside.
Arrange half of the ladyfingers in the bottom of a 9×9 inch baking pan. Brush the ladyfingers with about half of the cooled cinnamon coffee.
Spread half of the pudding/mascarpone cheese mixture over the ladyfingers in the dish. Cover with the remaining ladyfingers; then brush the second layer of ladyfingers with the remaining coffee mixture. Top with the remaining pudding/mascarpone cheese mixture.
Cover & refrigerate for at least 4 hours & up to overnight. Top with a little whipped topping & a sprinkle of ground cinnamon before serving, if desired. Enjoy immediately. You can cover & refrigerate any leftovers for up to 3 days.
Source : allrecipes.com