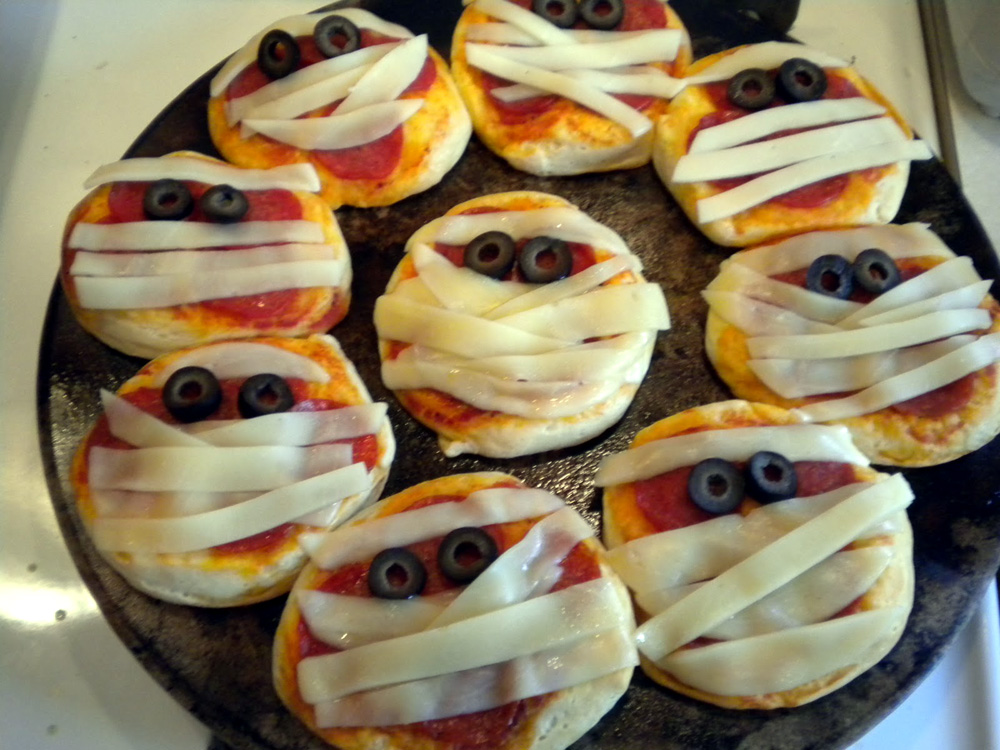 Ingredients
10 Pillsbury Buttermilk Biscuits
16 oz jar pizza sauce
1 package 10 slices mozzarella cheese
1 package pepperoni
1 small can sliced olives
Instructions
Preheat oven to 450 degrees. Lightly spray a cookie sheet with non stick cooking spray. Flatten pillsbury biscuits onto a cookie sheet.
Take a slice of Mozzarella cheese and slice into thin ¼ inch strips. Repeat this for all of the slices of Mozzarella cheese until you have all of the cheese sliced into thin strips.
Put 1 Tablespoon of pizza sauce onto the flattened biscuits and layer pepperoni on top of the sauce. Take the thin strips of mozzarella and layer to look like a mummy leaving large gaps of the pepperoni showing through. For more of a mummy look, only use about 5 strips and keep them spaced out. If you use more strips and want it more cheesy, it will blob together and look more like ghosts. Either way both are great for Halloween.
Bake in preheated over for 8 to 10 minutes and Happy Halloween!
Source : allrecipes.Com