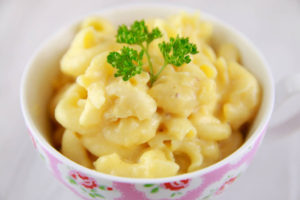 Ingredients
1⁄2 cup

elbow macaroni

1⁄2 cup

milk

1⁄2 cup

cheddar cheese

, shredded

1⁄2 tsp

kosher salt

, or to taste

1 sprig

fresh flat leaf Italian parsley

, for garnish (optional)
Directions
Add macaroni and milk to a large microwave safe mug. Place the mug on a large plate to catch any milk overflow that may occur. Microwave on High for 1 minute, then stir, making sure the noodles do not stick to the bottom of the mug. Microwave for 1 more minute and stir again. The macaroni should be almost cooked and most of the milk should be gone. Repeat in 30 second increments until the macaroni is cooked and the milk is absorbed. If there is a lot of overflow, reduce microwave power.
Immediately add cheddar cheese and stir until it completely coats the macaroni. Very finely shredded cheese should completely melt. If using thicker shredded cheese, it may be necessary to microwave for an additional 15 seconds and stir again. Season with salt and garnish with parsley, if desired.
Note: A 1000 watt microwave was used for this recipe. Cooking time may vary based on microwave power and mug size.
Source : allrecipes.Com