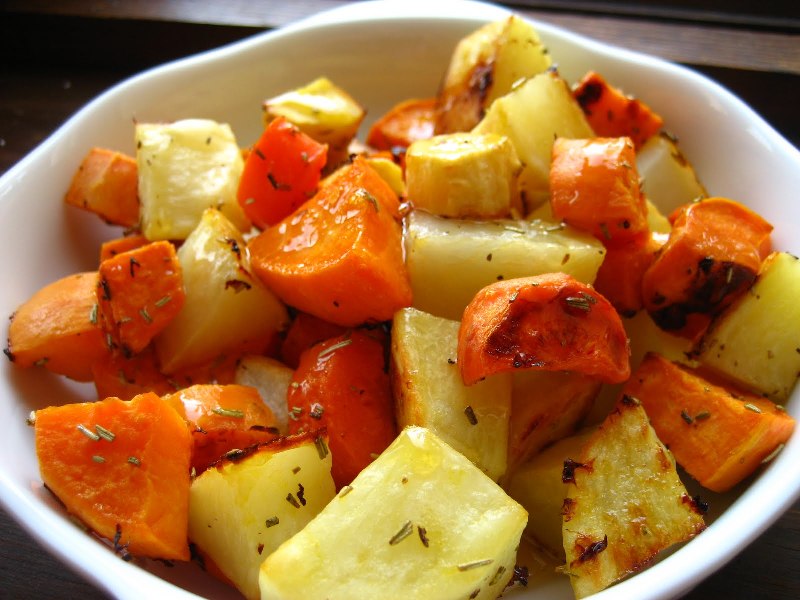 Ingredients
1 fennel bulb, fronds discarded, cored and sliced
2 sweet potatoes, peeled and cubed
5 carrots, tops trimmed, and chopped
3 Russet potatoes, peeled and cubed
4 Peruvian purple potatoes (or Yukon Gold potatoes if you can't find them)
4 red potatoes, cubed
1 large onion, peeled and cubed
3 tbsp organic olive oil
3 tbsp pure maple syrup
1 tbsp fresh or dried rosemary
Kosher salt and freshly ground black pepper
2 tbsp maple-vinegar, optional
Instructions
Set a rack in the center of the oven and preheat to 350°F.
Rinse all the vegetables in clean water and place on a cutting board. Chop or cube as directed and place in a large, shallow roasting pan. Drizzle the oil and maple syrup over the top and sprinkle with the rosemary, salt and pepper. Add the maple vinegar if using. Toss the vegetables until everything is mixed and coated with the oil and maple syrup.
Place pan in the hot oven and roast for 20 minutes. Carefully stir the vegetables and continue roasting for another 30 to 45 minutes or until a fork can be easily inserted in the largest pieces.
Remove from the oven, toss again, and serve hot.
If made ahead, cool and store in a covered container in the refrigerator. Reheat before serving. Can be made up to two days in advance.
Source : allrecipes.Com