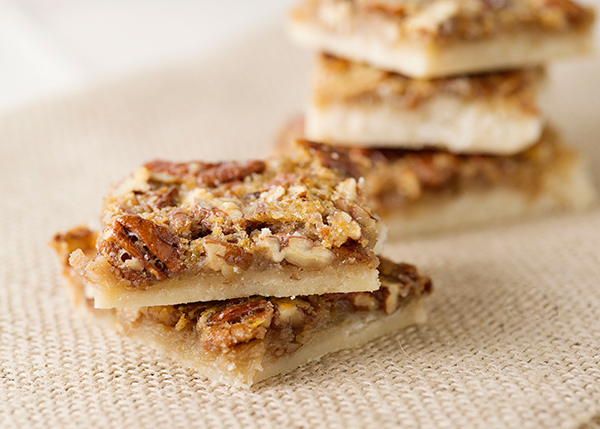 INGREDIENTS
For the crust:
2 cups unbleached all-purpose flour
1 teaspoon salt
½ cup oil (I used olive oil, but softened coconut oil would also work.)
¼ cup cold almond milk
Topping:
1 cup finely chopped pecans
¾ cup maple syrup

INSTRUCTIONS

Preheat oven to 350 degrees Fahrenheit.
To assemble your crust, stir flour and salt together in a mixing bowl. Then, add your oil and almond milk, not stirring until both oil and almond milk have been poured into your flour mixture.
Using a rolling pin (and a sprinkle of flour, if needed) roll crust out onto a greased or lined rimmed cookie sheet.
Fork your crust in numerous places.
Sprinkle chopped pecans evenly across the top of your crust.
Drizzle maple syrup evenly over the top of your pecans/crust. If you are trying to go easy on sweets and don't want to use the full ¾ cup of maple syrup, feel free to use less. I found that once baked, ¾ cup was the perfect amount for my taste buds.
Bake at 350 degrees F for about 25 minutes.
Remove bars from the oven and allow to cool for about 2 minutes, before scoring. Cutting your bars once your crust has completely cooled is difficult, so go ahead and cut them while they are still fairly hot.
Leave scored bars in the pan to cool for 10 more minutes before transferring to cooling rack.
Store your pecan pie bars in an airtight container for up to 5 days.
Source : allrecipes.com