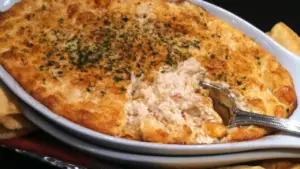 Looking for the perfect party appetizer that combines the rich flavors of the Gulf Coast with a spicy kick? Look no further than this Louisiana Hot Crab Dip. This creamy, cheesy, and spicy dip is sure to be a hit at your next gathering. Whether you're hosting a game day party, a family get-together, or just craving a taste of the bayou, this recipe will transport your taste buds straight to Louisiana.
Ingredients:
For the Dip:
8 ounces lump crab meat, drained and picked for shells
8 ounces cream cheese, softened
1/2 cup mayonnaise
1/2 cup sour cream
1 cup grated sharp cheddar cheese
1/4 cup grated Parmesan cheese
1/4 cup diced green onions
2 cloves garlic, minced
1 tablespoon Worcestershire sauce
1 tablespoon hot sauce (adjust to your spice preference)
1 teaspoon Cajun seasoning
1/2 teaspoon paprika
Salt and black pepper to taste
For the Topping:
1/4 cup panko breadcrumbs
2 tablespoons melted butter
1/4 teaspoon Cajun seasoning
For Garnish:
Sliced green onions
Sliced jalapeños (for an extra kick)
Instructions:
Step 1: Preheat the Oven
Preheat your oven to 350°F (175°C). Grease a baking dish or oven-proof serving dish with cooking spray or butter.
Step 2: Prepare the Crab Dip
In a large mixing bowl, combine the softened cream cheese, mayonnaise, sour cream, grated cheddar cheese, grated Parmesan cheese, diced green onions, minced garlic, Worcestershire sauce, hot sauce, Cajun seasoning, paprika, salt, and black pepper.
Gently fold in the lump crab meat, being careful not to break up the crab meat too much. You want to keep those delicious chunks intact.
Step 3: Make the Topping
In a small bowl, mix together the panko breadcrumbs, melted butter, and Cajun seasoning.
Step 4: Assemble and Bake
Transfer the crab dip mixture into the greased baking dish, spreading it out evenly.
Sprinkle the panko breadcrumb topping evenly over the crab dip.
Step 5: Bake to Perfection
Place the baking dish in the preheated oven and bake for 25-30 minutes or until the dip is bubbly and the top is golden brown.
Step 6: Garnish and Serve
Remove the Louisiana Hot Crab Dip from the oven and let it cool slightly.
Garnish with sliced green onions and jalapeños for an extra burst of flavor and color.
Serve the dip hot with your choice of dippers, such as tortilla chips, crackers, or sliced baguette.
Tips for Success:
Crab Meat: Use high-quality lump crab meat for the best results. Check for any remaining shell fragments as you pick through it.
Spice Level: Adjust the amount of hot sauce and Cajun seasoning to match your spice tolerance. Louisiana cuisine is known for its bold flavors, so feel free to turn up the heat!
Make-Ahead: You can prepare the dip a day ahead and refrigerate it. Just add the breadcrumb topping right before baking.
Dippers: Aside from tortilla chips and crackers, consider serving with fresh vegetables like celery and carrot sticks for a healthier option.
In conclusion, this Louisiana Hot Crab Dip is a taste explosion that brings the flavors of the bayou to your party table. With its creamy texture, spicy kick, and succulent crab meat, it's a surefire way to please your guests. So, gather your ingredients, follow our easy steps, and let the good times roll with this irresistible Louisiana-inspired dip. Laissez les bon temps rouler!