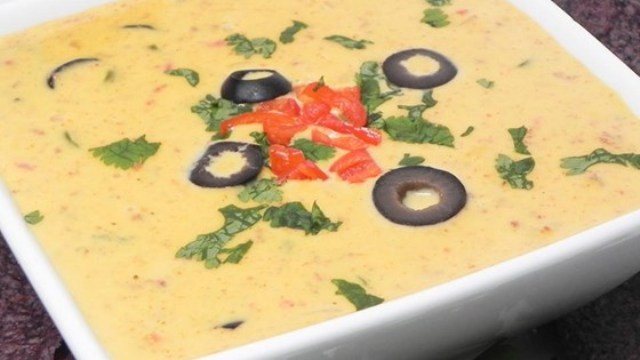 Ingredients
1 cup chicken broth
2 pounds shredded American cheese
1 tablespoon olive oil
2 skinless, boneless chicken breast halves – cut into cubes
3 links Mexican chorizo, casing removed and meat crumbled
1 (10 ounce) package sliced button mushrooms
2 tomatoes, seeded and diced
1/2 yellow onion, diced
2 jalapenos, seeded and diced
2 green onions, diced
1 clove garlic, or to taste, minced
8 ounces shredded Cheddar cheese
Directions
Bring chicken broth to a boil in a pot; add American cheese, bring to a simmer, reduce heat to low, and cook, stirring frequently, until the cheese melts into the broth, about 5 minutes.
Heat olive oil in a skillet over medium-high heat; saute chicken and chorizo in oil until the chicken is no longer pink in the center, 5 to 7 minutes. Add mushrooms, tomatoes, onion, jalapenos, green onions, and garlic; saute until all vegetables are tender, 7 to 10 minutes.
Stir chicken mixture into the melted cheese; bring to a simmer. Stir Cheddar cheese into the mixture and cook until completely melted, about 5 minutes.
Source : allrecipes.Com