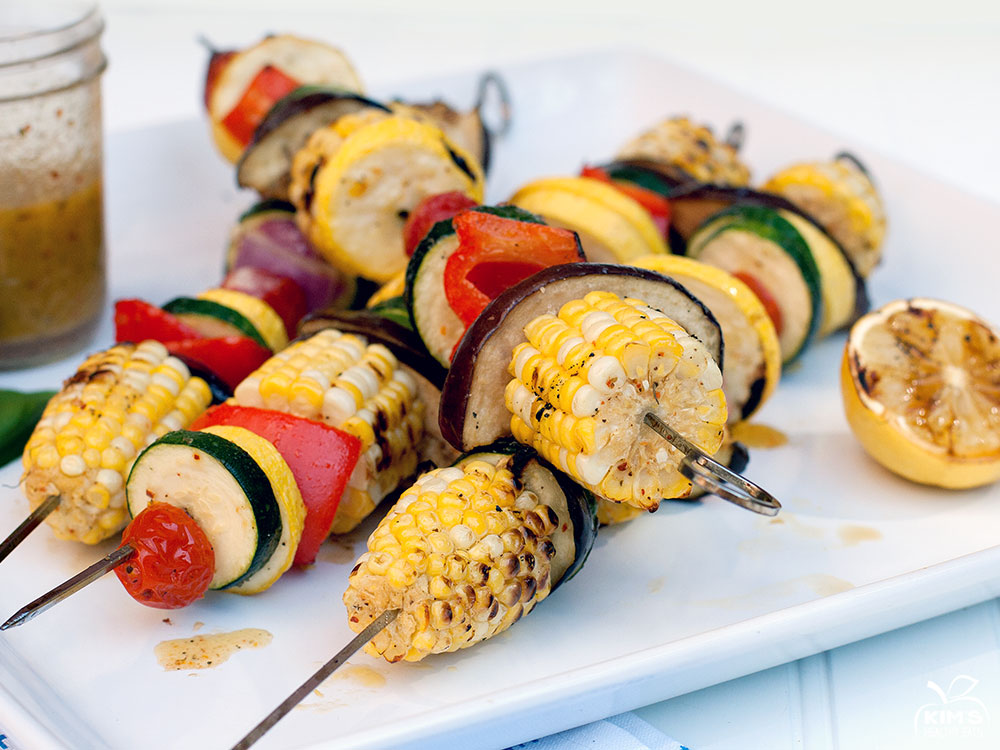 Ingredients
2 ears sweet corn, cut into 2-inch rounds
2 zucchini, sliced
2 yellow squash, sliced
1 small eggplant, halved and sliced
1 red pepper, chopped
1 pint grape tomatoes
1 lemon, sliced in half
1 package Simply Organic Italian Dressing Mix
2 tablespoons white wine vinegar
1/3 cup water
2/3 cup olive oil
Instructions
Prep veggies and set aside. In a small bowl or jar with a lid add Italian dressing mix, white wine vinegar, water, and olive oil. Whisk until well combined.
Add vegetables to a large bowl. Reserve 2 tablespoons of dressing and add the rest to the vegetables. Mix until well combined. Marinade vegetables for up to 1 hour.
Meanwhile, preheat your grill. Real wood charcoal tastes best, but gas works fine. Avoid instant-light briquettes as they make food taste like lighter fluid. Aim for medium-high heat – if your grill lid has a thermometer built into the lid, it should read about 350 degrees.
Thread marinaded vegetables onto skewers. Note, if using wooden skewers be sure to soak in water for at least 30 minutes before adding vegetables to prevent them from catching on fire.
Place skewers on heated grill. Grill for about 4 minutes then flip and cook for another 4 minutes.
Meanwhile, place halved lemon on grill, cut side down and grill for 3 to 4 minutes.
Remove from grill and set aside.
Remove vegetables from the grill, squeeze with lemon and drizzle with reserved marinade.
Source : allrecipes.com