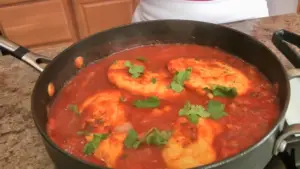 If you're looking to spice up your dinner routine and tantalize your taste buds, look no further than this delectable Salsa Chicken recipe. Bursting with bold flavors, this dish is a fiesta on a plate. Whether you're a seasoned chef or a novice in the kitchen, you'll find this recipe both easy to follow and incredibly satisfying. So, let's embark on a culinary adventure and learn how to make Salsa Chicken that will have your friends and family begging for seconds.
Ingredients:
For the Salsa:
2 large tomatoes, diced
1 red onion, finely chopped
2 cloves of garlic, minced
1/4 cup fresh cilantro, chopped
Juice of 2 limes
1 jalapeño pepper, finely chopped (adjust to your spice preference)
Salt and pepper to taste
For the Chicken:
4 boneless, skinless chicken breasts
1 teaspoon cumin powder
1 teaspoon chili powder
1/2 teaspoon paprika
Salt and pepper to taste
1 tablespoon olive oil
For Garnish:
Sliced avocado
Sour cream
Shredded cheddar cheese
Fresh cilantro leaves
Instructions:
Step 1: Prepare the Salsa
In a large bowl, combine the diced tomatoes, chopped red onion, minced garlic, chopped cilantro, and finely chopped jalapeño pepper.
Squeeze the juice of two limes over the mixture. This will add a zesty kick to your salsa.
Season the salsa with salt and pepper to taste. Mix everything together until well combined.
Cover the bowl and refrigerate the salsa for at least 30 minutes to allow the flavors to meld.
Step 2: Prepare the Chicken
Preheat your oven to 375°F (190°C).
In a small bowl, mix together the cumin powder, chili powder, paprika, salt, and pepper. This will be your flavorful spice rub for the chicken.
Rub the spice mixture evenly over both sides of each chicken breast.
Heat the olive oil in a large oven-safe skillet over medium-high heat. Once hot, add the seasoned chicken breasts and sear for 2-3 minutes on each side, until they develop a golden-brown crust.
Pour the prepared salsa over the seared chicken breasts, spreading it evenly.
Transfer the skillet to the preheated oven and bake for 20-25 minutes, or until the chicken reaches an internal temperature of 165°F (74°C).
Step 3: Serve and Garnish
Once the chicken is cooked through, remove the skillet from the oven.
Garnish each chicken breast with slices of creamy avocado, a dollop of sour cream, a sprinkle of shredded cheddar cheese, and a few fresh cilantro leaves.
Serve your Salsa Chicken hot with your favorite side dishes, such as rice, tortilla chips, or warm tortillas for making delicious chicken tacos.
Tips for Success:
Spice Level: Adjust the heat of your Salsa Chicken by controlling the amount of jalapeño you use. For milder palates, remove the seeds and membranes from the pepper before chopping.
Freshness Matters: Use ripe, juicy tomatoes and fresh cilantro to make the salsa shine.
Resting Time: Don't rush the salsa's resting time. Allowing it to chill for at least 30 minutes will enhance its flavors.
Side Dish Ideas: Salsa Chicken pairs wonderfully with rice, quinoa, or a fresh green salad. Get creative with your sides!
Leftovers: If you have any leftovers (although it's doubtful), you can use them to make mouthwatering chicken quesadillas or burritos.
Variation: Salsa Verde Chicken
For a delightful twist on this Salsa Chicken recipe, try making Salsa Verde Chicken. Instead of using a tomato-based salsa, use salsa verde (green salsa) made with tomatillos, green chilies, and cilantro. The tangy and slightly spicy flavor of salsa verde complements the chicken beautifully, giving you a whole new culinary experience.
To make Salsa Verde Chicken, simply substitute the tomato-based salsa with salsa verde in the recipe above. You can either use store-bought salsa verde or make your own for an extra special touch.
In conclusion, making Salsa Chicken is not just a recipe; it's a culinary adventure that brings the vibrant flavors of Mexico to your dinner table. With its zesty salsa, perfectly seasoned chicken, and a variety of garnishes to choose from, this dish is a surefire crowd-pleaser. So, gather your ingredients, follow our step-by-step instructions, and savor the fiesta of flavors that is Salsa Chicken. Your taste buds will thank you for it!