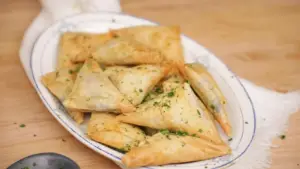 If you're looking to transport your taste buds to the sunny shores of Greece, you're in for a treat. Greek cuisine is celebrated for its vibrant flavors, fresh ingredients, and the way it seamlessly combines tradition with innovation. Today, we'll embark on a culinary adventure to create Greek Spinach and Cheese Quiche Squares, a mouthwatering fusion of classic Greek ingredients in a modern twist. These delectable squares are perfect for brunches, picnics, or a delightful snack. Get ready to savor every bite!
Ingredients: The Mediterranean Pantry
For the Crust:
1 1/2 cups all-purpose flour
1/2 teaspoon salt
1/2 cup unsalted butter, cold and cubed
1/4 cup cold water
For the Filling:
4 cups fresh spinach, chopped
1 cup feta cheese, crumbled
1 cup ricotta cheese
1/2 cup grated Parmesan cheese
4 large eggs
1/2 cup milk
1 small onion, finely chopped
3 cloves garlic, minced
1 teaspoon dried oregano
1 teaspoon dried dill
Salt and black pepper to taste
Olive oil for sautéing
For the Topping:
1/2 cup cherry tomatoes, halved
1/4 cup Kalamata olives, pitted and sliced
Fresh dill for garnish
Instructions: Crafting Your Greek Quiche Masterpiece
Step 1: Preparing the Crust
In a large mixing bowl, combine the flour and salt.
Add the cold, cubed butter to the flour mixture.
Use a pastry cutter or your fingers to work the butter into the flour until it resembles coarse crumbs.
Slowly add cold water, one tablespoon at a time, and mix until the dough comes together.
Form the dough into a ball, wrap it in plastic wrap, and refrigerate for at least 30 minutes.
Step 2: Sautéing the Spinach and Aromatics
Heat a drizzle of olive oil in a pan over medium heat.
Add the chopped onion and sauté until translucent.
Stir in the minced garlic and cook for another minute.
Add the chopped spinach and sauté until wilted.
Remove from heat and let it cool slightly.
Step 3: Preparing the Filling
In a large mixing bowl, whisk together the eggs and milk.
Add the crumbled feta, ricotta, grated Parmesan, dried oregano, dried dill, salt, and black pepper. Mix until well combined.
Fold in the sautéed spinach mixture.
Step 4: Assembling the Quiche
Preheat your oven to 350°F (175°C) and grease a square baking dish.
Roll out the chilled crust dough to fit the baking dish.
Press the dough into the bottom of the dish, making sure to go up the sides.
Pour the spinach and cheese mixture onto the crust and spread it evenly.
Top with cherry tomato halves and Kalamata olive slices.
Step 5: Baking to Perfection
Bake in the preheated oven for 35-40 minutes, or until the quiche is set and the top is golden brown.
Remove from the oven and let it cool for a few minutes.
Garnish with fresh dill.
Tips: Enhancing Your Culinary Skills
Freshness Matters: For the best flavor, use fresh spinach and high-quality cheeses.
Make It Ahead: This dish can be prepared a day in advance and reheated for convenience.
Customize Your Fillings: Add some chopped sun-dried tomatoes, artichoke hearts, or roasted red peppers for extra Mediterranean flair.
Gluten-Free Option: Substitute almond flour or a gluten-free flour blend for the crust to make it gluten-free.
As you savor the exquisite flavors of these Greek Spinach and Cheese Quiche Squares, you'll find yourself transported to the enchanting landscapes of Greece. The creamy, herb-infused filling combines perfectly with the flaky crust, while the cherry tomatoes and Kalamata olives provide delightful pops of color and taste. Whether enjoyed as a light dinner, brunch centerpiece, or a delightful picnic treat, this dish embodies the essence of Greek cuisine – simple yet full of character.
So, gather your ingredients, let your creativity flow, and embark on a culinary journey to Greece, one delicious square at a time. Opa!