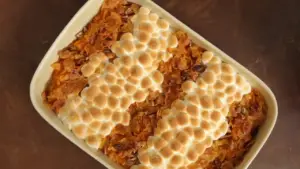 Sweet potatoes are a beloved staple in many households, and for a good reason. They're not only incredibly nutritious but also versatile, making them a star ingredient in countless recipes. Today, we're taking this humble root vegetable and elevating it to gourmet status. Our Gourmet Sweet Potato Classic is a delightful fusion of flavors and textures, creating a dish that's perfect for special occasions or when you want to impress your family and friends.
INGREDIENTS
For the Sweet Potato Mash:
4 large sweet potatoes
1/4 cup heavy cream
4 tablespoons unsalted butter
1/4 cup pure maple syrup
1 teaspoon ground cinnamon
1/2 teaspoon ground nutmeg
Salt and black pepper to taste
For the Topping:
1 cup chopped pecans
1/2 cup brown sugar
1/4 cup all-purpose flour
1/4 cup unsalted butter, melted
A pinch of salt
For the Marshmallow Drizzle:
1 cup mini marshmallows
2 tablespoons heavy cream
INSTRUCTIONS
Prepare the Sweet Potatoes: Start by preheating your oven to 375°F (190°C). Wash the sweet potatoes, prick them with a fork, and place them on a baking sheet. Roast for about 1 hour or until they're tender and can be easily pierced with a fork.
Make the Sweet Potato Mash: Once the sweet potatoes are done, let them cool slightly before peeling off the skin. Place the peeled sweet potatoes in a large mixing bowl and mash them until smooth. Add the heavy cream, butter, maple syrup, cinnamon, nutmeg, salt, and black pepper. Mix until well combined and creamy.
Prepare the Topping: In a separate bowl, combine the chopped pecans, brown sugar, flour, melted butter, and a pinch of salt. Mix until the topping resembles coarse crumbs.
Assemble the Dish: Transfer the sweet potato mash into a greased baking dish, spreading it evenly. Sprinkle the pecan topping over the sweet potatoes.
Bake: Place the dish in the preheated oven and bake for 25-30 minutes, or until the topping is golden brown and the sweet potatoes are heated through.
Make the Marshmallow Drizzle: While the dish is baking, heat the mini marshmallows and heavy cream in a small saucepan over low heat. Stir until the marshmallows are completely melted and the mixture is smooth.
Finish and Serve: Once the sweet potato dish is out of the oven, drizzle the marshmallow mixture over the top. You can use a kitchen torch to lightly toast the marshmallow drizzle for that gourmet touch. Serve your Gourmet Sweet Potato Classic hot and enjoy!
TIPS FOR SUCCESS
Be patient when roasting the sweet potatoes; they should be very soft to ensure a smooth mash.
Adjust the sweetness to your preference by adding more or less maple syrup.
If you don't have a kitchen torch, you can briefly place the dish under the broiler to toast the marshmallow drizzle, but watch it carefully to avoid burning.
VARIATIONS TO EXPLORE
1. Savory Herb Infusion: Add fresh herbs like rosemary and thyme to the sweet potato mash for a savory twist. Skip the marshmallow drizzle and instead top with grated Parmesan cheese.
2. Candied Bacon Crumble: Crumble candied bacon over the pecan topping before baking for a delightful sweet and savory contrast.
3. Coconut and Macadamia Nut: Replace the pecans with shredded coconut and crushed macadamia nuts for a tropical flavor profile. Drizzle with a coconut cream glaze before serving.
4. Spicy Maple Glaze: Infuse some heat by adding a pinch of cayenne pepper to the sweet potato mash and drizzling with a spicy maple glaze made by mixing maple syrup with a dash of hot sauce.
The Gourmet Sweet Potato Classic is a dazzling way to elevate a classic side dish into something truly extraordinary. With its rich and creamy sweet potato base, crunchy pecan topping, and luscious marshmallow drizzle, it's a symphony of flavors and textures that will leave your taste buds dancing. Whether you're serving it at a holiday feast or a cozy family dinner, this dish is sure to impress. So, next time you have sweet potatoes on your menu, consider giving them the gourmet treatment with this recipe. Your guests will thank you, and your taste buds will rejoice in the deliciousness of this sweet and savory masterpiece.