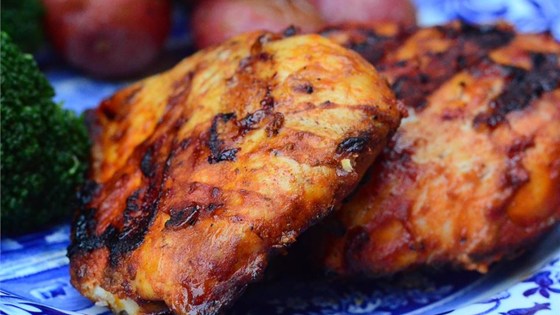 Ingredients
6 tablespoons plain yogurt
3 cloves garlic, crushed
3 tablespoons ground paprika
2 tablespoons olive oil
1 tablespoon hot chile paste (such as sambal oelek)
1 pinch cayenne pepper
1 (5 pound) whole chicken, cut into 8 pieces
salt
1/4 cup olive oil
2 tablespoons sherry vinegar
1 tablespoon ketchup
1/8 teaspoon hot chile paste (such as sambal oelek)
1 pinch paprika
salt and pepper to taste
Directions
Whisk together yogurt, garlic, 3 tablespoons paprika, 2 tablespoons olive oil, 1 tablespoon hot chile paste, and cayenne pepper in a large bowl.
Mix in chicken pieces and toss to evenly coat. Cover the bowl with plastic wrap and marinate in the refrigerator for 3 hours.
Preheat an outdoor grill for medium-high heat, and lightly oil the grate.
Remove chicken from the bag and transfer to a plate or baking sheet lined with paper towels. Pat chicken pieces dry with more paper towels. Season with salt.
Combine 1/4 cup olive oil, sherry vinegar, ketchup, 1/8 teaspoon hot chile paste, pinch paprika, salt, and pepper in a small bowl. Set aside.
Grill chicken, skin-side down, on the preheated grill for 4 minutes with grill lid closed.
Turn chicken and grill with lid closed until well-browned and meat is no longer pink in the center, about 6 minutes. An instant-read thermometer inserted into the thickest part of the thigh should read 180 degrees F (82 degrees C).
Spoon sherry vinegar mixture over cooked chicken and serve.
Source : allrecipes.Com