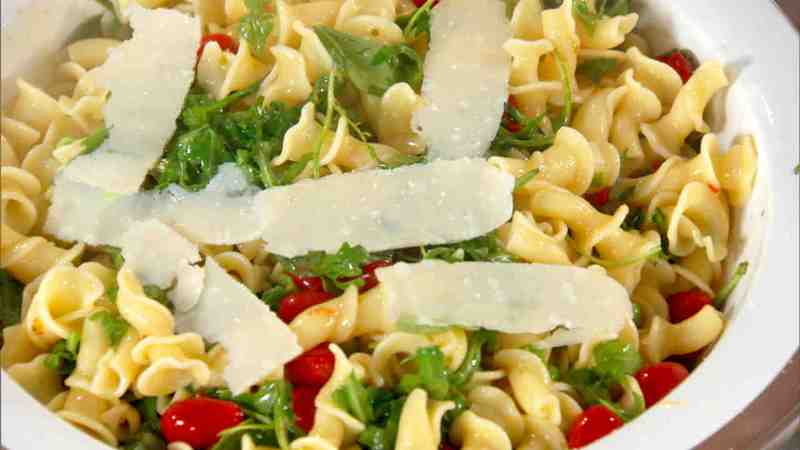 Ingredients
dressing:
2 cloves garlic, minced
½ C cherry tomatoes
1-2 T red wine vinegar
¼ C fresh basil
⅓ C EVOO
kosher salt and freshly ground pepper
salad:
kosher salt
8 oz campanelle (about 4 cups)
1 small zucchini, sliced into ribbons with a peeler
1½ C halved cherry tomatoes
1 C mozzarella (shredded or via bocconcini)
¼ C pine nuts, toasted
½ C fresh basil leaves, sliced if leaves are medium or larger
freshly ground pepper
Instructions
Make the dressing: Bring a small saucepan of water to a boil, add the garlic and cook 2 minutes (strange, but true). Remove the garlic with a fine mesh sieve and place in a mini food processor with the cherry tomatoes, vinegar and basil. Puree until smooth. Add in the olive oil and blend until smooth. Season with salt and pepper.
Make the salad: Bring a large pot of salted water to a boil. Add the pasta and cook until al dente. In the last 2 minutes of the pasta boiling, add in the zucchini ribbons. After, drain zucchini and pasta in a colander, and rinse under cold water Shake of the excess, then transfer to a bowl and toss with the dressing.
Add tomatoes, mozzarella, pine nuts and basil to salad. Toss, season with salt and pepper. Serve at room temperature.
Source : allrecipes.com