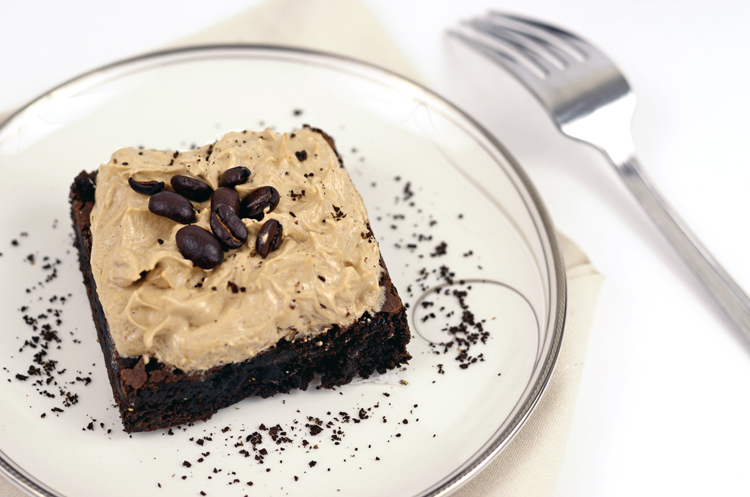 Ingredients
For the Brownie
6 Tablespoons of Pastured Butter
6 ounces of Solid Semisweet Chocolate
2 Tablespoons of Packed Coconut Flour (20g)
¼ cup plus 2 Tablespoons of Tapioca Flour (45g)
1 cup of Sucanat or Palm Sugar (165g)
¼ cup of Strong Hot Coffee
¼ cup of Unsweetened Cocoa Powder (30g)
2 Eggs
½ teaspoon of Baking Soda
¼ teaspoon of Kosher Salt
Extra butter for pan greasing
For the Mocha Frosting
¼ cup of Pastured Butter, melted
¼ cup of Pastured Butter, softened
¼ cup of Strong Hot Coffee
¾ cup of Sucanat or Palm Sugar
Instructions
For the Brownie
Preheat the oven to 350F. Grease an 8×8 baking pan and line with parchment paper.
Ensure eggs are at room temperature. You may run them under warm water for about 10 seconds while shelled.
Gently melt the semisweet chocolate and butter in a double boiler. You may use the microwave at 50% heat at 30 second intervals with intermittent stirring.
Stir in the coffee and unsweetened cocoa powder.
Measure the sugar and coconut flour and add to a food processor. Give a few pulses to make a superfine texture.
Sift together the superfine coconut flour, sugar, tapioca flour, baking soda, and salt.
Beat the eggs and add the dry ingredients. Beat until combined
Add the rest of the wet ingredients and beat until incorporated.
Pour the batter into the lined 8×8 pan.
Bake for 25-30 minutes at 350F until a toothpick inserted into the center of the batter comes out clean.
When done, remove from the oven and let cool in the pan for at least 15 minutes.
For the Mocha Frosting
Measure the sugar and add to the food processor. Give a few pulses to make a superfine texture.
Gently heat the sugar with the ¼ cup of melted butter and coffee until dissolved or mostly dissolved.
Refrigerate the mixture for a few hours. It will look terrible at this stage, but don't despair. It is beneficial, but not necessary, to mix every now and then while cooling.
When the mixture is cold enough, beat in the softened butter 1T at a time on high speed. I find the hand mixer best for this task.
Source : allrecipes.com