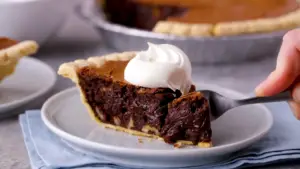 Fudge Pie is a true indulgence for chocolate lovers. It's a dessert that sits somewhere between a brownie and a chocolate truffle, offering a deep, fudgy, and intensely chocolatey experience with every bite. If you're seeking a dessert that's simple to make yet delivers a big dose of chocolatey satisfaction, look no further. Let's dive into the world of Fudge Pie.
Ingredients
For the Pie:
1 1/4 cups granulated sugar
1/4 cup unsweetened cocoa powder
2 large eggs
1/2 cup all-purpose flour
1/2 cup unsalted butter, melted
2 teaspoons pure vanilla extract
A pinch of salt
1/2 cup chopped pecans or walnuts (optional)
For Serving (Optional):
Powdered sugar for dusting
Whipped cream or vanilla ice cream
Instructions
Preparing the Pie:
Preheat your oven to 350°F (175°C). Grease a 9-inch pie dish.
In a mixing bowl, combine the granulated sugar and cocoa powder. Mix well.
Add the eggs to the sugar and cocoa mixture. Beat them in until the mixture is smooth and glossy.
Gradually add the all-purpose flour and continue to mix until well combined.
Pour in the melted unsalted butter and pure vanilla extract. Mix until the batter is smooth and velvety.
Add a pinch of salt to enhance the chocolate flavor. Mix it in.
If you desire some extra texture and flavor, fold in the chopped pecans or walnuts.
Baking the Pie:
Pour the fudgy pie batter into the greased pie dish.
Smooth the top to ensure even baking.
Bake in the preheated oven for 25-30 minutes. The pie should be set around the edges but still slightly gooey in the center.
Serving:
Allow the Fudge Pie to cool for a bit before serving. It's often enjoyed warm, but it's equally delicious at room temperature.
If desired, dust the pie with powdered sugar for an elegant touch.
Serve individual slices with a dollop of whipped cream or a scoop of vanilla ice cream for the ultimate indulgence.
Variations and Tips
Chocolate Varieties: Experiment with different cocoa powders for varying degrees of chocolate intensity. Dark cocoa powder will result in an even richer, darker pie.
Chocolate Chips: For extra gooeyness, fold in a half-cup of chocolate chips to the batter.
Nut Variations: Customize the pie by using your favorite nuts, such as almonds or hazelnuts, instead of pecans or walnuts.
Flavored Extracts: Add depth of flavor by using flavored extracts like almond, mint, or orange extract in place of (or in addition to) vanilla extract.
Sea Salt Topping: Sprinkle a pinch of flaky sea salt on top of the pie just before serving for a delightful contrast to the sweetness.
Serving Warm: Fudge Pie is exceptionally delicious when served warm. If you make it in advance, a quick reheating in the oven or microwave will do the trick.
Storage: Store any leftover Fudge Pie in an airtight container at room temperature for up to three days, or refrigerate it for longer shelf life.
Fudge Pie is a decadent dessert that's remarkably easy to make yet delivers a rich, chocolatey experience that's sure to satisfy your sweet cravings. With its gooey center and indulgent flavor, it's a treat that can be enjoyed on its own or paired with whipped cream or vanilla ice cream for a truly heavenly experience. Whether served at a special occasion or simply enjoyed as a midweek pick-me-up, Fudge Pie is a chocolate lover's dream come true. Embrace the richness and dive into the world of Fudge Pie!