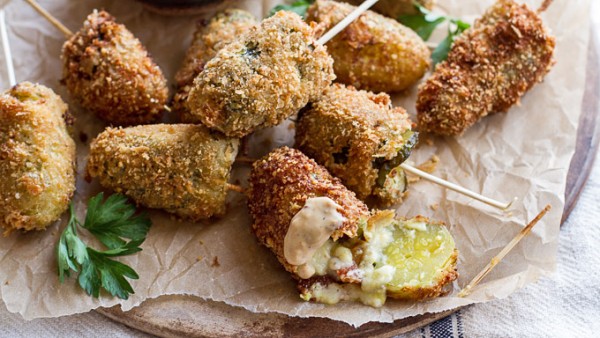 Ingredients:
6 whole dill pickles
1 ½ cup mayonnaise
1 canned chipotle pepper, chopped
1 garlic clove, minced
Juice of 1 lime
1 cup cream cheese
6 wonton wrappers
Egg wash (2 eggs + 2 tbsp water)
Frying oil (such as peanut)
Instructions:
1. Using an apple corer or small knife, carefully remove the center from each pickle.
2. In a separate bowl, combine ¾ cup mayonnaise, chipotle pepper, garlic and lime. Stir well, then add rest of mayonnaise and mix again. Set aside.
3. Pipe cream cheese into centers of pickles, using a Ziploc bag with the tip cut off.
4. Take one pickle and set it on an egg roll wrapper, angled so that it creates a diamond shape. Wrap pickle in one side of wonton wrapper, then brush egg wash on remaining sides. Fold top and bottom down, as if you are rolling a burrito, and roll up popper the rest of the way so that it is tightly sealed. Repeat with remainder of the stuffed pickles.
5. Fill a heavy-bottomed skillet or wok with at least a half inch of oil over medium high heat. When oil is hot, add pickles and pan fry until they are golden brown all over, turning to cook evenly.
6. Serve poppers warm with Chipotle Mayo dip.
Source : allrecipes.Com