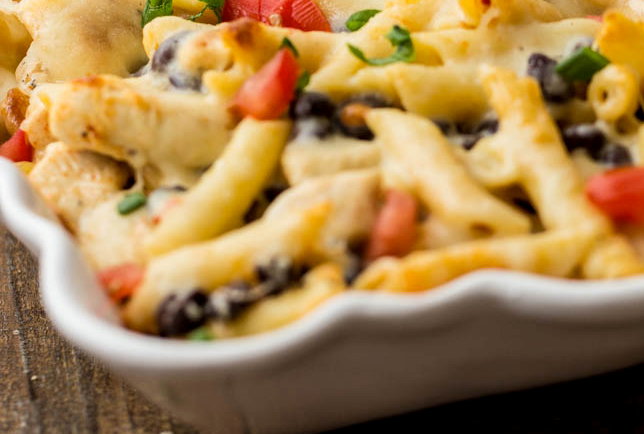 Ingredients
2 cups cubed, cooked chicken (about 3 chicken breasts)
1 (16 oz) box Penne Pasta
1 pint heavy whipping cream
4 oz cream cheese
½ cup grated parmesan cheese
1 packet Hidden Valley Fiesta Ranch Dips Mix
1 (15 oz) can black beans, drained and rinsed
2 cups Mozzarella cheese, shredded
Optional Toppings:
Sliced Green Onions
Diced Tomatoes
Instructions
Preheat oven to 350 degrees. Prepare a 9×13 inch baking dish and spray with cooking spray. Set aside.
Cook pasta according to package directions. Drain.
In a medium saucepan add heavy whipping cream and cream cheese. Heat over medium heat stirring until cream cheese has melted. Whisk in grated parmesan cheese. Whisk in fiesta ranch packet.
In a large mixing bowl, add drained pasta and sauce. Toss noodles until coated. Add chicken and black beans. Spoon mixture into prepared pan. Top with mozzarella cheese. Bake for 20-25 minutes until heated through and top is bubbly. Add optional toppings.
Source : allrecipes.Com