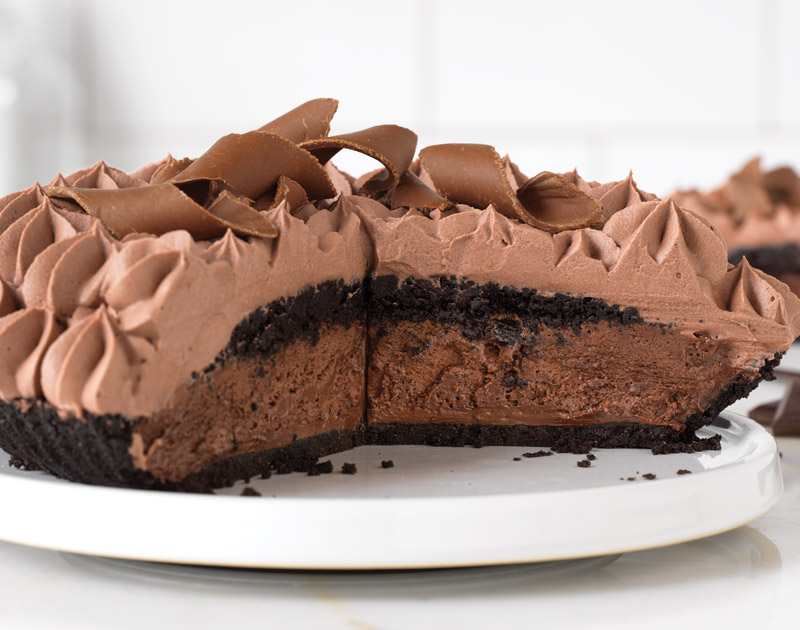 Ingredients
Pie Crusts:
2 refrigerated pie crusts (I used Pillsbury)
1 egg white, beaten
¼ cup granulated sugar
Chocolate Ganache (divided):
2 cups semi-sweet chocolate chips
1 cup heavy cream
Chocolate Mousse:
2 oz cream cheese, softened
4 tablespoons butter, softened
1 tsp vanilla
½ cup powdered sugar
1 cup chocolate ganache, room temperature
2 cups whipped cream
Chocolate Whipped Cream:
½ cup heavy whipping cream
½ cup room temperature chocolate ganache
Optional, chocolate curls for garnish.
Instructions
Mini Pie Cups:
Unroll pie crusts on a silicon mat and cut out large circles using a scalloped cookie cutter or even a small bowl. My cookie cutter was 5 inches wide. I had to knead and re-roll the scraps to get 6 out of each crust.
Put the crusts in greased muffin tins, leaving an empty space between crusts. Press them into the bottom and on the sides. Ruffle and then flatten the tops so they lay flat. Prick the bottoms with a fork.
Brush lightly with beaten egg white and sprinkle with sugar.
Bake at 450 degrees for 8-10 minutes.
Chocolate Ganache:
Bring heavy whipping cream to a boil.
Pour over chocolate chips and allow them to sit without stirring for 3 minutes.
After 3 minutes, stir until smooth.
Chocolate Mousse:
Beat softened cream cheese, butter and vanilla until light and fluffy.
Add powdered sugar and beat until smooth.
Add 1 cup of room temperature chocolate ganache and beat until smooth.
Gently fold in 2 cups whipped cream.
Store in the refrigerator until ready to use.
Chocolate Whipped Cream:
Using a cold mixing bowl and cold wire whisk attachment, beat whipping cream until slightly thickened.
Pour in ½ cup of room temperature chocolate ganache and beat until stiff peaks form.
Assembly:
Fill cups with about ¼ cup chocolate mousse.
Top with 1 tablespoon chocolate ganache.
Add a dollop of chocolate whipped cream to each cup.
Optional, garnish with a chocolate curl.
Source : allrecipes.com