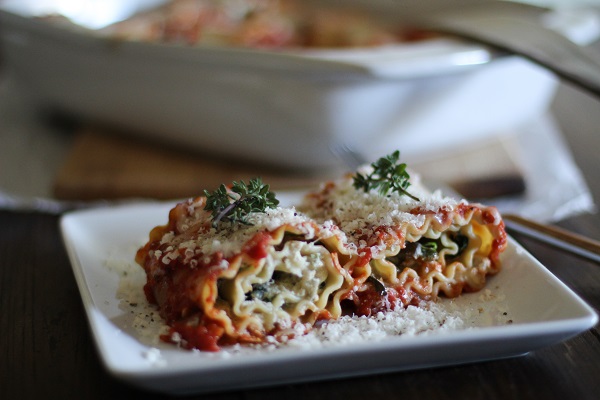 Ingredients
12 lasagna noodles, use whole wheat if you can find them
1 yellow bell pepper
1 red bell pepper
⅓ cup diced yellow onion
2 teaspoons minced garlic
2 tablespoons olive oil
1 and ½ cups kale, stem removed and finely chopped
3 cups mild chunky vegetable marinara sauce, divided
1 (15 ounce) container ricotta
1 large egg
2¼ cups shredded mozzarella cheese, divided
½ cup finely shredded Parmesan cheese
Optional: freshly chopped parsley
Instructions
Boil the lasagna noodles according to the package directions to al dente. Remove from the heat, drain, and lay out to dry in a straight shape.
While the noodles boil, dice the sweet peppers, the onion, mince garlic, and chop the kale.
Into a large saucepan over medium heat, pour the olive oil. Once the oil is hot, add the garlic and then the chopped sweet peppers and onion. Sauté until tender, and then add in the kale for about 1 minute.
Stir in 1 cup of the chunky marinara sauce, and remove from heat.
Meanwhile, in a small bowl, combine the ricotta cheese, egg and 1 cup of mozzarella cheese.
Spread the ricotta mixture evenly among the lasagna noodles. Place the cooked vegetable mixture over evenly.
Roll up the lasagna noodles.
Preheat the oven to 350 degrees F.
In a 9 x 13-inch casserole dish, spread 1 cup of marinara sauce. Place the lasagna roll-ups on top.
Pour the remaining marinara sauce over the roll-ups, and then cover with remaining mozzarella and Parmesan.
Cover the pan with foil, and bake for 20-25 minutes.
Remove the foil, and bake for another 10 minutes.
Remove the roll-ups from the oven, top with parsley if desired, and serve immediately.
Source : allrecipes.Com