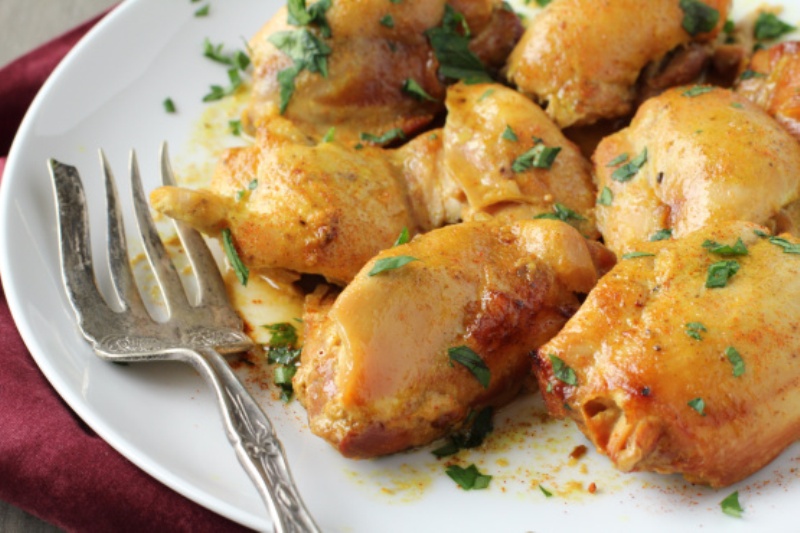 Ingredients
5-6 bone-in skin on chicken thighs
Salt and freshly ground pepper to taste
1 tbs unsalted butter
2 tbs olive oil
2 tbs Dijon mustard
1 tbs maple syrup -OR- pancake syrup
4 tbs fresh or canned chicken broth
2 tbs finely chopped shallots
2 large garlic cloves, minced
4 tbs Panko bread crumbs
4 tbs finely chopped parsley, divided
Instructions
Preheat the oven to 425 degrees.
Sprinkle the chicken with salt and pepper.
In a baking dish large enough to hold the chicken in one layer, melt the butter, and add the olive oil. Add the chicken legs, and turn them in the butter mixture until well coated. Place the chicken, skin side down, in the oven. Bake for 25 minutes.
Meanwhile, blend the mustard maple syrup and chicken broth in a small bowl with a whisk. In another small bowl blend well the shallots, garlic and bread crumbs, plus 2 tablespoons parsley. Set aside.
Loosen the chicken from the pan with a fork or spatula. Then with a pastry brush, brush the chicken on both sides with the mustard mixture. Arrange the chicken skin side up, return them to the oven, and bake for 15 minutes more.
Sprinkle the chicken evenly with the shallot mixture. Reduce the heat to 400 degrees, and bake for 10 minutes longer or until lightly browned. Sprinkle with the remaining parsley.Serve immediately.
Source : allrecipes.Com