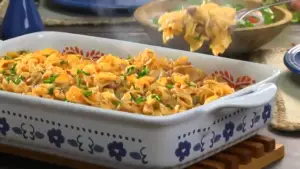 Amish Country Casserole is a classic comfort dish that brings together hearty ingredients in a single, satisfying casserole. It's a tribute to the culinary traditions of the Amish, known for their wholesome, farm-fresh cooking. This casserole combines ground beef, pasta, and a rich tomato-based sauce, all topped with a layer of creamy, melted cheese. The result is a dish that's both comforting and filling, making it a perfect choice for a family dinner or potluck gathering. Let's dive into creating this delicious and hearty Amish-inspired casserole.
Ingredients
For the Casserole:
1 pound ground beef
1 medium onion, chopped
1 green bell pepper, chopped
2 cloves garlic, minced
1 can (15 ounces) tomato sauce
1 can (15 ounces) diced tomatoes, undrained
1 can (15 ounces) whole kernel corn, drained
1 can (15 ounces) green beans, drained
2 cups uncooked elbow macaroni or your preferred pasta
2 cups shredded cheddar cheese
2 tablespoons vegetable oil
Salt and pepper to taste
For Garnish (optional):
Instructions
For the Casserole:
Preheat Your Oven:

Preheat your oven to 350°F (175°C). Grease a 9×13-inch baking dish or casserole dish.

Cook the Pasta:

Cook the elbow macaroni or your preferred pasta according to the package instructions until it's just al dente. Drain and set it aside.

Sauté the Ground Beef and Vegetables:

In a large skillet, heat the vegetable oil over medium-high heat. Add the chopped onion, green bell pepper, and minced garlic. Sauté for about 3-4 minutes until they begin to soften.
Add the ground beef and cook until it's browned and crumbled. Make sure to break up the meat into small pieces as it cooks.

Combine the Sauce:

Stir in the tomato sauce and diced tomatoes (with their juice) into the skillet with the cooked beef and vegetables. Season with salt and pepper to taste. Simmer for about 5 minutes, allowing the flavors to meld.

Layer the Casserole:

In your greased baking dish, layer half of the cooked pasta, followed by half of the ground beef and vegetable mixture.
Next, add a layer with half of the drained corn and green beans.
Sprinkle half of the shredded cheddar cheese over this layer.
Repeat the layers with the remaining pasta, beef and vegetable mixture, corn, green beans, and cheese.

Bake:

Cover the baking dish with aluminum foil and bake in the preheated oven for 25-30 minutes, or until the casserole is heated through and the cheese is melted and bubbly.

Broil (Optional):

If you'd like a golden, slightly crispy top, you can remove the foil and broil the casserole for 2-3 minutes until the cheese turns golden brown. Keep a close eye to prevent burning.

Garnish and Serve:

If desired, garnish your Amish Country Casserole with freshly chopped parsley before serving. It adds a touch of color and freshness to the dish.

Serve Hot:

This casserole is best enjoyed hot, straight from the oven. It's a comforting, satisfying meal all on its own.
Tips
Feel free to customize this casserole by adding your favorite vegetables or spices. Mushrooms, peas, or a pinch of red pepper flakes can provide a delightful twist.
For a lighter version, you can use lean ground beef or ground turkey, and opt for low-fat cheese.
This casserole is perfect for making ahead. Assemble it in advance, refrigerate, and bake when you're ready to serve.
Amish Country Casserole is a heartwarming, homestyle dish that embodies the essence of comfort food. It brings together the wholesome goodness of ground beef, pasta, and an array of vegetables, all united by a rich tomato-based sauce and a generous layer of melted cheese. Whether you're looking for a hearty family dinner or a dish to share at a potluck, this casserole delivers. Enjoy the warmth and comfort that each bite brings as you savor the flavors of this classic Amish-inspired creation.