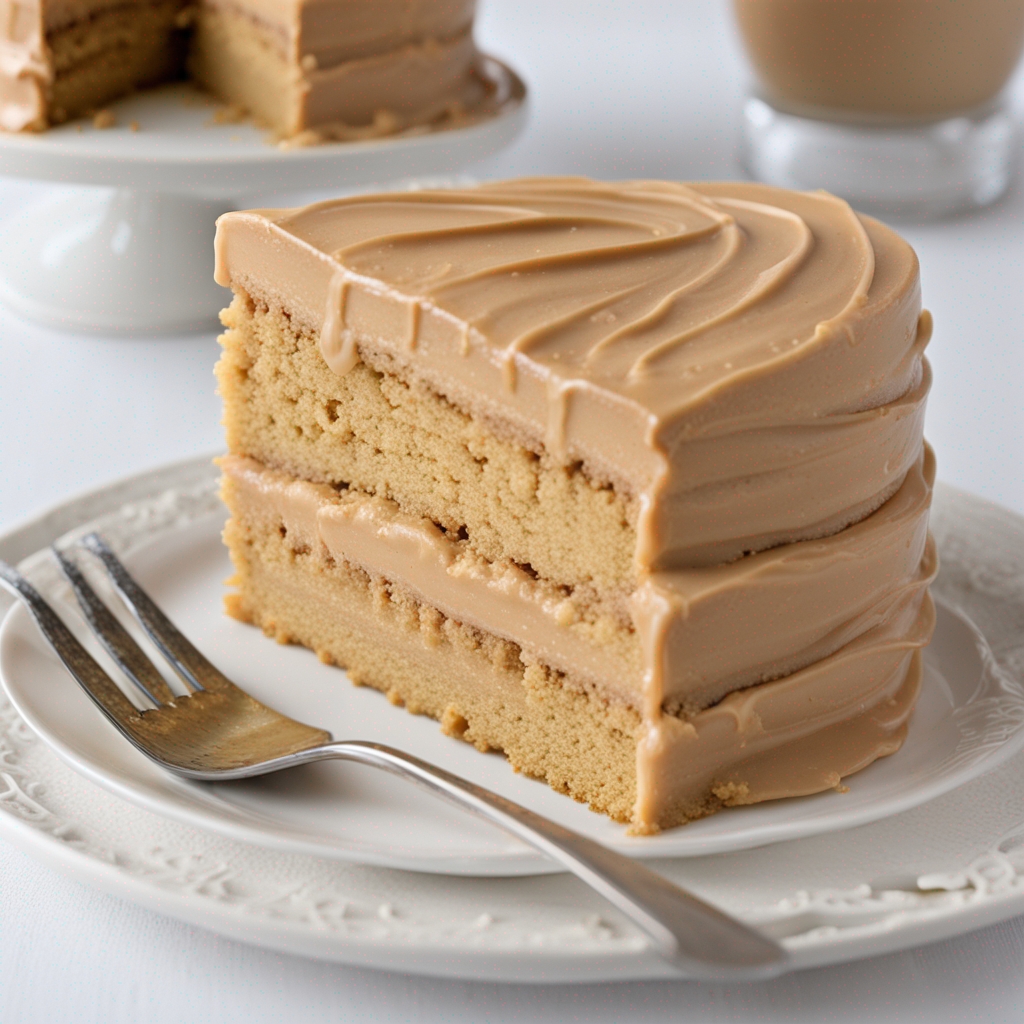 Ever found yourself caught in a sweet dilemma between your love for peanut butter and your insatiable craving for cake? Well, why choose? Dive deep into the creamy world of our Peanut Butter Cake draped in a delectable Peanut Butter Honey Frosting. Prepare yourself for a dance of flavors with every bite.
Recipe Overview:
Prep Time: 20 minutes
Cook Time: 30 minutes
Total Time: 50 minutes
Servings: 8
Ingredients:
For the Peanut Butter Cake:
2 1/4 c all-purpose flour
2 c light brown sugar (packed)
1 c peanut butter
1/2 c butter, room temperature
1 tsp baking powder
1/2 tsp baking soda
1 1/4 c milk
2 tsp vanilla extract
3 eggs
For the Peanut Butter Honey Frosting:
1/2 c peanut butter
2 Tbsp honey
1 tsp vanilla extract
2 c powdered sugar
4 to 5 Tbsp milk
Topping:
Step-by-Step Guide:
Peanut Butter Cake Magic:
Preheat your oven to 350°F (175°C).
In a large mixing bowl, cream together the butter, peanut butter, and light brown sugar until it achieves a fluffy consistency.
Beat in the eggs one at a time, ensuring each is fully incorporated before adding the next.
In another bowl, sift together the flour, baking powder, and baking soda. Gradually alternate adding the flour mixture and milk to the creamed mixture. Always begin and end with the dry ingredients.
Stir in the vanilla extract.
Pour the batter into a greased baking pan and bake for 30 minutes, or until a toothpick inserted into the center comes out clean.
Whip Up The Frosting:
In a medium-sized bowl, blend together the peanut butter, honey, and vanilla extract until smooth.
Gradually mix in the powdered sugar. As the frosting thickens, alternate adding in the milk until you achieve your desired consistency.
The Finishing Touch:
Once your cake has cooled, spread the Peanut Butter Honey Frosting evenly over the top.
Sprinkle the mini chocolate chips generously to add a sweet crunch to every bite.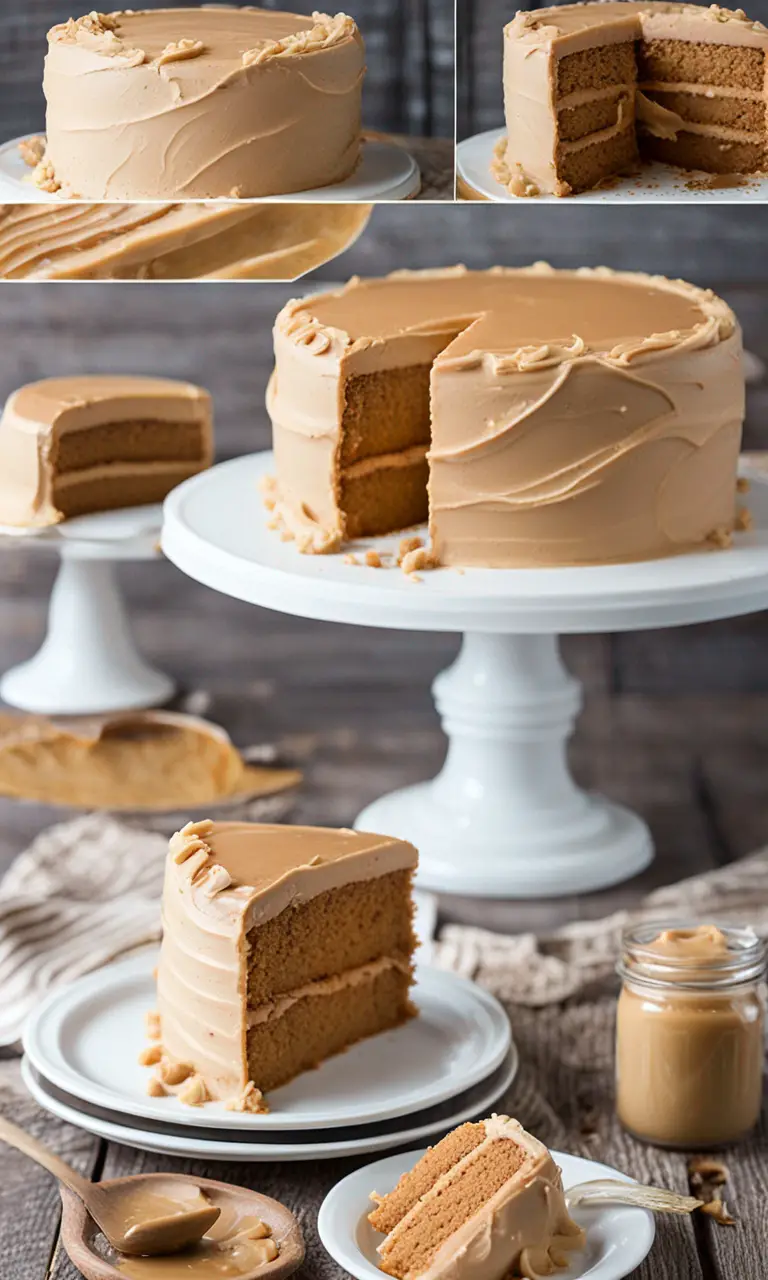 The Secrets Behind Perfect Peanut Butter Cake:
The real magic of this cake comes down to three essential factors:
Quality Ingredients: Always opt for fresh ingredients. Using a high-quality, smooth peanut butter can significantly impact the taste and texture.
Don't Overmix: Overmixing the batter can lead to a dense cake. Mix just until ingredients are combined to ensure a light and fluffy outcome.
Cooling is Crucial: Before frosting, allow your cake to cool completely. This not only enhances flavor but prevents the frosting from melting when applied.
Serving Suggestions:
Pair with a scoop of vanilla or chocolate ice cream to elevate the dessert experience.
A drizzle of caramel or chocolate sauce can add another layer of sweetness.
Serve alongside a glass of cold milk or a cup of freshly brewed coffee.
Frequently Asked Questions (FAQs):
Can I use crunchy peanut butter? Absolutely! It will give your cake a delightful crunch. Just be aware of potential changes in consistency.
Is it possible to turn this into cupcakes? Of course! Simply adjust the baking time to around 20 minutes or until a toothpick comes out clean.
Can I freeze the cake? Yes, the cake can be frozen for up to a month. Ensure it's wrapped properly to prevent freezer burn.
The allure of the Peanut Butter Cake with Honey Frosting isn't just in its mouthwatering flavors but also in the memories and warmth it brings to every gathering. From the very first bite to the last crumb, it promises an experience that is both nostalgic and novel. Whether you're a seasoned baker or someone venturing into the world of desserts for the first time, this recipe is a testament to the magic that happens when simple ingredients come together with love. So, the next time you're in the mood for a dessert that's both comforting and captivating, remember this recipe. And as always, relish in the joy of sharing, because good food becomes great when enjoyed with loved ones. Happy baking!
Loved this recipe? Don't forget to PIN it to your favorite dessert board on Pinterest! Share the love and deliciousness with others. 📌