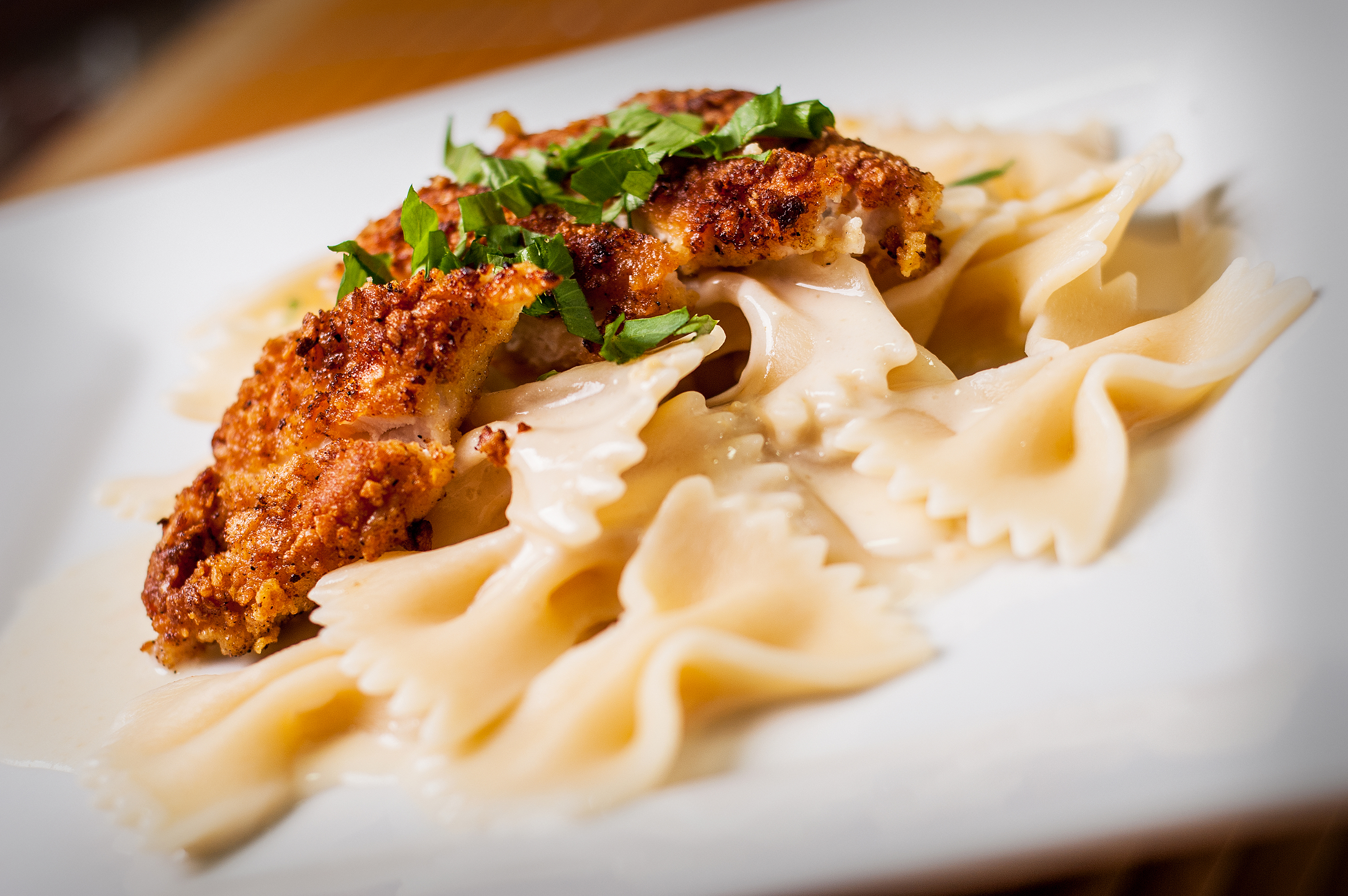 Ingredients
3 Large Chicken Breasts
4 cups corn flakes
3/4 cup flour
1 tsp salt
1/2 cup milk
6 T olive oil
1 12 oz package bowtie pasta noodles
Creamy Italian Sauce
1 8 oz container Chive and Onion Cream Cheese
1 package dry Italian Seasoning mix
2 cans cream of chicken soup
1 c chicken broth
1/2 cup Heavy Cream
Directions
1.  In a food processor grind the cornflakes into crumbs.  You can also place the cornflakes in a gallon sized bag and use a rolling pin to crush them.  Place them in a pan (I used a loaf pan) and set aside.
2.  Mix the flour and the salt together and place in a separate pan.   Then lastly put the milk into another separate pan and set them aside.
3.  Pound the chicken to flatten them to about 1/2 inch thickness.  Then cut the chicken in half, creating 6 smaller flattened pieces of chicken.
4.  Dip the chicken in the flour and coat well.  Place them on a plate and place the floured chicken in the freezer for about 5 minutes.
5.  While the chicken are in the freezer, in a large saucepan, heat up the 6 T of oil in the saucepan over medium high heat.
6.  Take the chicken out of the freezer, drudge them in the milk and then coat them in the crushed corn flakes.  Carefully put them into the sauce pan and cook them until each side is golden brown being careful not to burn the sides.  It took mine about 5 minutes on each side.
7.  Cover the pan and reduce the heat to medium and cook for about 10 more minutes making sure they are cooked through and no longer heat.  Remove the chicken from the pan and cover with foil while you prepare your sauce.
8.  In the same saucepan, whisk together the chicken broth, cream cheese, cream of chicken soup, italian seasoning package, and heavy cream.  This should only take a few minutes to heat through so that it is warm and bubbly.
9.  Serve the sauce over bowtie pasta and cut the chicken into strips and serve them over the top!  Garnish with fresh parsley if desired.
Source : allrecipes.Com