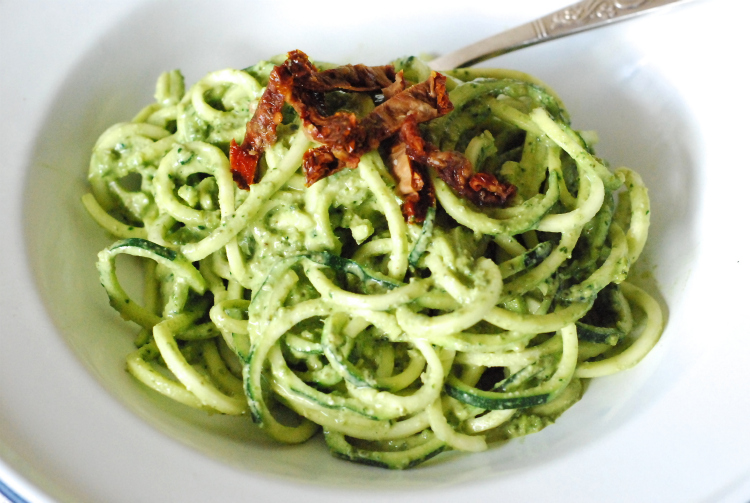 INGREDIENTS
½ pound pasta (I used penne.)
½ cup cashews
½ cup coconut milk (full fat, not lite)
¾ cup hot salted pasta water (divided, plus more, if needed)
2 tablespoons nutritional yeast flakes
1 tablespoon lemon juice
½ teaspoon salt (plus more for salting your pasta water and sprinkling over veggies, or to taste)
1 tablespoon extra virgin olive oil
8-10 ounces fresh zucchini (about 1 medium zucchini, quartered and thinly sliced)
½ onion, thinly sliced (about ⅔ cup)
2 cloves garlic (crushed and minced)
¼ cup green peas (I used frozen variety)
1 cup (packed) kale or spinach leaves
Chopped basil or parsley for garnish (optional)
INSTRUCTIONS
Cook pasta until al dente according to package instructions in heavily salted boiling water. Save about 1 cup of pasta water, and set aside. Then drain pasta, and set cooked pasta aside too.
In a high-speed blender, place cashews, coconut milk, ¾ cup pasta water, yeast flakes, lemon juice, and ½ teaspoon salt. Blend on high until smooth.
In a large skillet, heat olive oil on medium-high heat. Once oil is hot, add zucchini and onion. Toss veggies occasionally to keep them from burning, and sprinkle with a pinch of salt. If you're using kale, go ahead and add that now as well. (If you're using spinach, wait until later.)
Once veggies are barely fork tender (should take only a few minutes of cooking), add garlic and green peas to your skillet, and cook for another 30-60 seconds.
Pour pasta and blender contents over the veggies in your skillet, and stir to combine. If you're using spinach rather than kale, go ahead and add that in now as well. Allow mixture to cook for another 30 seconds or so–just until everything is hot and bubbly looking. Your cashew cream will thicken up pretty quickly, and you'll want to remove it from heat as soon as it does. If you cashew cream is too thick and is starting to look goopy (??), go ahead and toss in the extra ¼ cup of pasta water that you saved.
Garnish with fresh chopped basil or parsley, if desired, and serve immediately.
Source : allrecipes.Com